What happens to our bodies in space?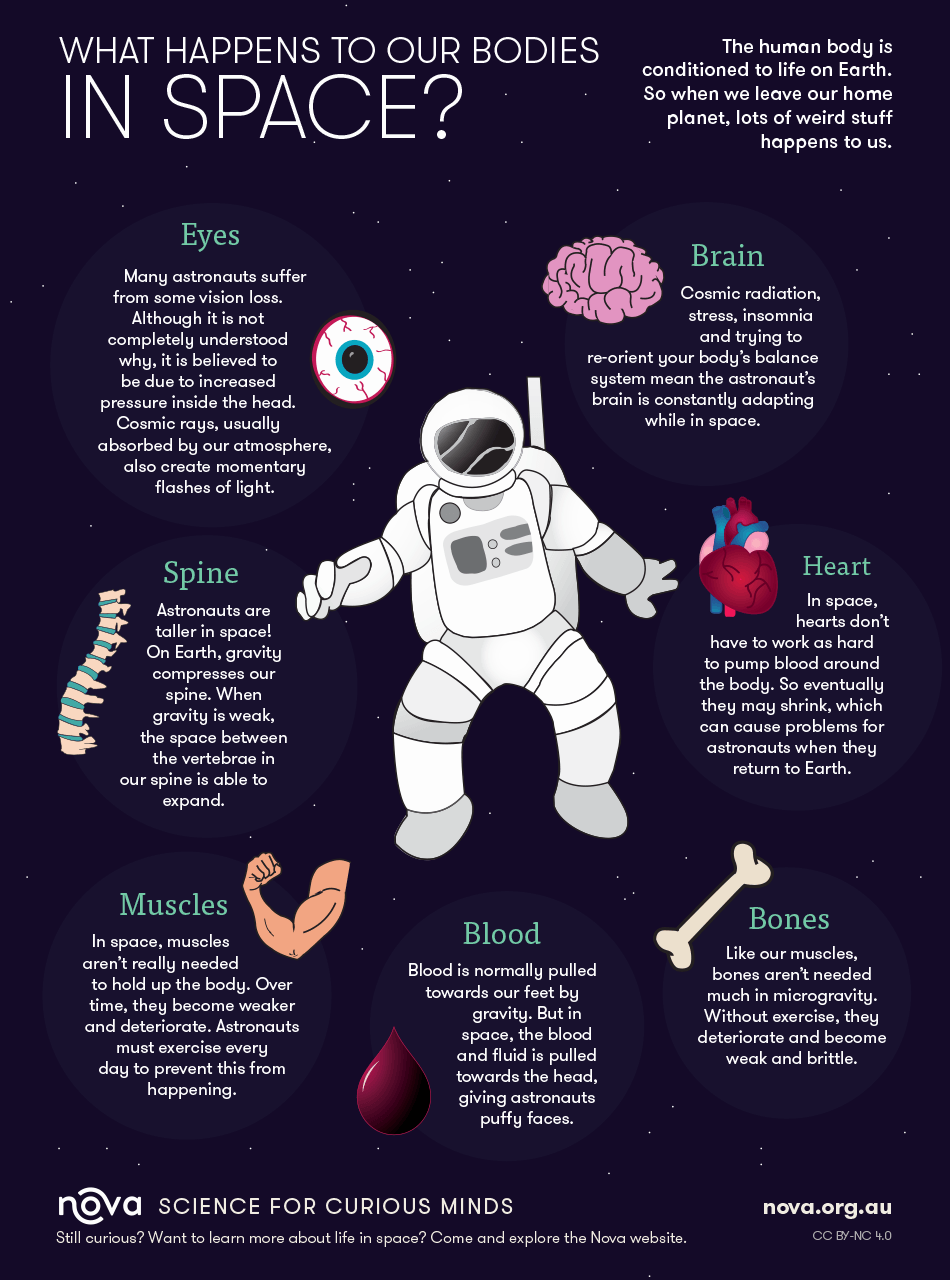 Still curious? Read more:
Humans in space
The human body is conditioned to life on Earth. So when we leave our home planet, lots of weird stuff happens to us.
Eyes
Many astronauts suffer from some vision loss. Although it is not completely understood why, it is believed to be due to increased pressure inside the head. Cosmic rays, usually absorbed by our atmosphere, also create momentary flashes of light.
Brain
Cosmic radiation, stress, insomnia and trying to re-orient your body's balance system mean the astronaut's brain is constantly adapting while in space.
Spine
Astronauts are taller in space! On Earth, gravity compresses our spine. When gravity is weak, the space between the vertebrae in our spine is able to expand.
Heart
In space, hearts don't have to work as hard to pump blood around the body. So eventually they may shrink, which can cause problems for astronauts when they return to Earth.
Muscles
In space, muscles aren't really needed to hold up the body. Over time, they become weaker and deteriorate. Astronauts must exercise every day to prevent this from happening.
Blood
Blood is normally pulled towards our feet by gravity. But in space, the blood and fluid is pulled towards the head, giving astronauts puffy faces.
Bones
Like our muscles, bones aren't needed much in microgravity. Without exercise, they deteriorate and become weak and brittle.
Further information
This infographic was created by Nova: science for curious minds. Are you still curious? Want to learn more about life in space? Explore the Nova website, where you'll find our topic on humans in space.
Infographic license
CC BY-NC 4.0