Food waste: preventing a multi-billion dollar problem
Think back to your last grocery shop. Of the food you bought, do you know how much you ate—and how much you threw away? For the average Australian, it's estimated that one in five shopping bags of food ends up in the bin. That's $3800 worth of groceries per household each year.
The Australian Government's National Food Waste Baseline Report, published in March 2019, revealed that over 7.3 million tonnes of food waste was generated in 2016–17, which caused an estimated loss of $20 billion to the economy. Food waste includes all food intended for human consumption that never reaches us, as well as edible food that consumers throw away. As it rots in landfill, food waste generates potent greenhouse gases that accelerate global warming. On the global scale, it's responsible for approximately 8 per cent of total greenhouse gas emissions, according to the World Resources Institute.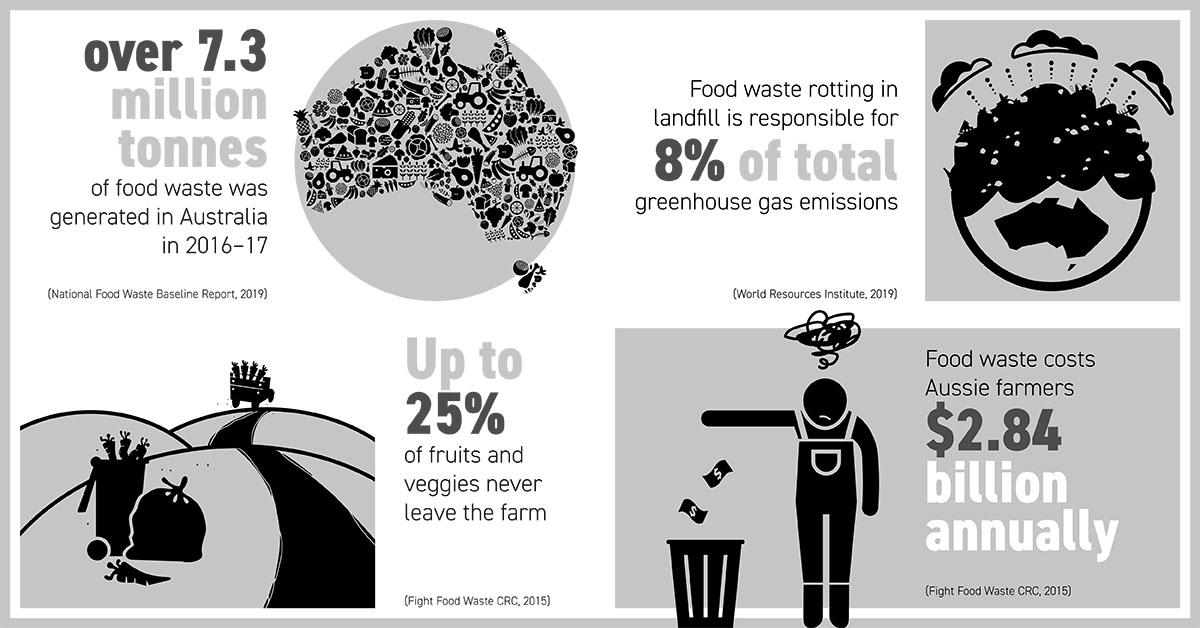 Food waste is a multi-billion dollar problem that's costing primary producers, consumers and the planet.
To tackle this huge problem, the Australian Government developed the National Food Waste Strategy in 2017. The goal is to halve our food waste at the retail and consumer levels by 2030. It also aims to halve food losses from farms and during transport, processing, manufacturing and storage. The strategy is in line with Australia's obligations under the United Nations Framework Convention on Climate Change, which describes how participating countries should reduce their greenhouse emissions. This includes diverting food waste from landfill and preventing the 'unnecessary' emissions caused by producing food that just ends up as waste.
The top priority when it comes to food waste? Avoid generating more! The first priority is to prevent food becoming waste, followed by reusing unsold food—for example by donating it to food rescue charities, or to farmers for animal feed. Solutions based on science and data will play an important role in these strategies.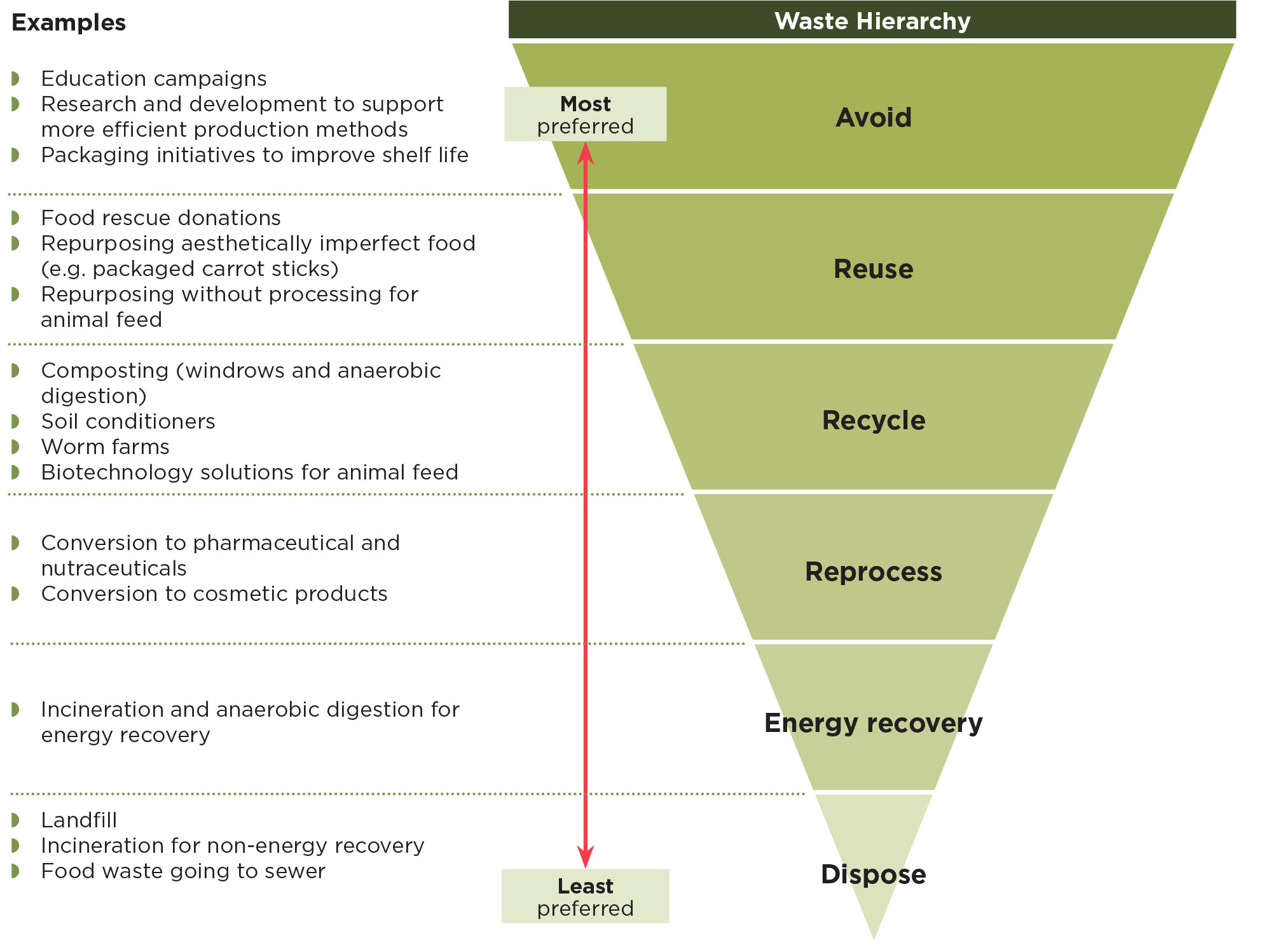 The food recovery hierarchy classifies food waste strategies into avoid, reuse, recycle, reprocess, energy recovery and dispose. Image adapted from:
Avoid food waste: targeted food production
The Fight Food Waste Cooperative Research Centre calculates that food waste costs Australian farmers $2.84 billion annually; in fact, up to 25 per cent of all fruits and vegetables produced never leave the farm. This can be due to product losses from pests, diseases or the weather, and damage caused during harvesting and handling. Crops also go to waste when market prices make it unprofitable to harvest and when producers are unable to meet contracted product specifications, such as quality or size (although some retailers have relaxed their specifications during the current challenging growing season of 2019–20).
There's also the complex issue of international markets. Australia actually exports around two thirds of its agricultural outputs, which gives Aussie producers the additional challenge of meeting international demand for commodities like wheat, meat and dairy. That's no easy task considering it can be months or even years between investing in supplies and selling the produce. Agricultural technology, or agtech, has the potential to help match supply and demand and reduce food waste, but experts caution that there is still a long way to go.
A major agtech focus area is the development of precision agriculture tools that combine remote sensing with big data. Using satellites or sensor-enabled drones, farmers can glean practical information to map soil nutrients, identify crop growth and respond to health threats quickly. This data can then be combined with predictive analytics to help schedule planting and harvesting times, which can maximise shelf life and help to minimise food waste. To support widespread uptake, CSIRO reports that specialist agronomy advisors are needed to help farmers identify where they can best benefit from investing in agtech.
Agricultural robots or 'agbots' are also becoming more sophisticated. Agbots can make farms more productive by picking produce, applying crop protection products and maintaining paddocks and orchards. While agbots have plenty of potential, most are still in the trial or proof of concept stage. According to AgriFutures Australia, high costs and a lack of performance data so far mean that only a small percentage of farmers are able to invest in agbots.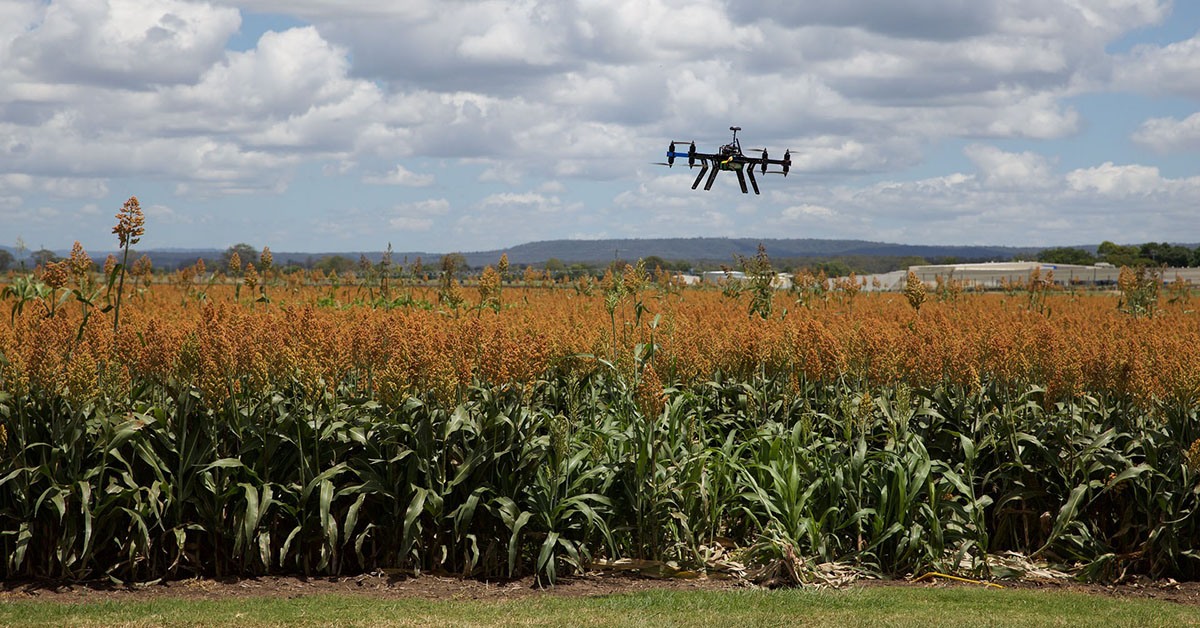 Another aim of agtech is to reduce food waste by providing better market intelligence, with the ultimate goal of farmers producing only what traders or retailers buy. CSIRO is currently working with primary producers on digital agriculture products such as apps which forecast crop yield and monitor the global market.
Gene editing also has the potential to prevent food waste. Using CRISPR-based technologies, scientists can tweak crops to increase yield or shelf life and impart favourable characteristics (like enhanced size or shape, or improved flood and drought resistance). These kinds of crops are ready for market and are awaiting FDA approval in the United States. In Australia, experts predict that CRISPR-edited foods could be on our plates within five years.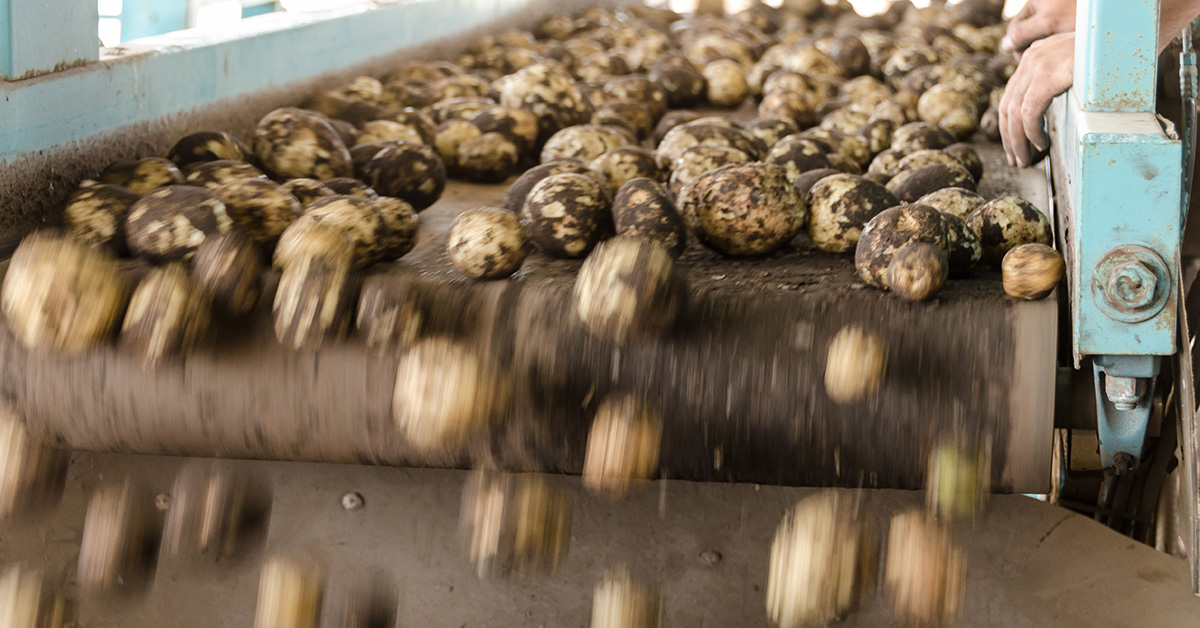 Avoid food waste: improving logistical challenges
When foods enter the supply chain, keeping them at the ideal temperature becomes a major logistical challenge. To make sure perishables don't meet an untimely fate, smart inventory management is key. Disposable sensors with Internet-of-Things capabilities are an emerging solution. These sensors allow the real-time monitoring of perishable products and the temperatures they are subjected to, from paddock to retail.
Food waste advocacy groups report that these sensors are already available and cost-effective—they just need to be adopted more broadly by logistics companies and food manufacturers. The initial findings from an ongoing study by the Australian Food Cold Chain Council suggest that food waste in the cold food chain costs the economy $3.8 billion a year, so action to reduce food waste in the cold chain is urgently required.
Reuse food: repurposing 'ugly' produce
For crops such as potatoes and bananas, market specifications mean that up to 40 per cent can be rejected purely for cosmetic reasons, according to the Fight Food Waste Cooperative Research Centre. Marketing ugly produce is one solution, but another is creating entirely new products. Innovative solutions by small businesses include commercial freeze-drying using a technique called sublimation, which was originally used in NASA's space food. The frozen fruit and veg are transformed into snacks or powders, destined to become smoothies or colouring agents. A growing banana flour industry has also taken off, transforming second-rate bananas into gluten-free flour and dietary fibre supplements.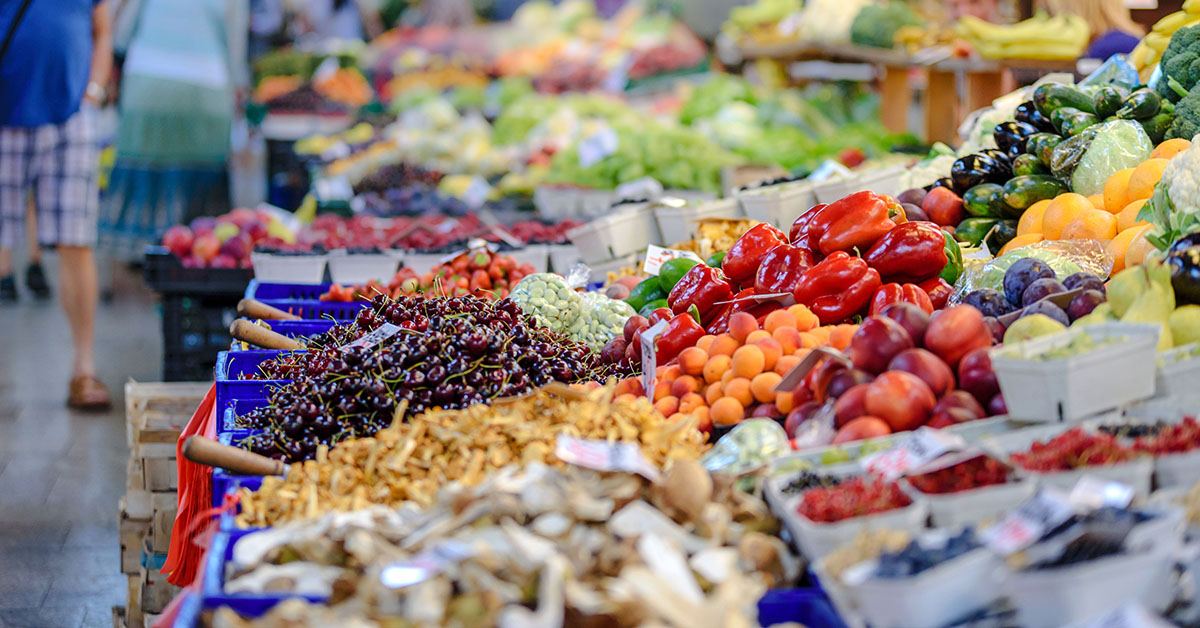 Reuse food: apps that tap surplus food
Along with environmental and economic factors, food waste has major social implications. According to food relief organisation Foodbank, food insecurity affected five million Australians in 2018, with women more often affected than men. To make sure surplus food reaches people in need, four food relief organisations have received government funding to invest in energy efficient refrigeration systems for storage and transportation.
Australian entrepreneurs have also developed apps which tap quality surplus food. Apps such as Bring Me Home and Y Waste allow consumers to buy quality surplus food at a discounted price from partnering vendors, like an environmentally-friendly version of Uber Eats. For buying and selling wholesale, Yume acts as an online platform to trade surplus food that is at risk of being wasted between food businesses.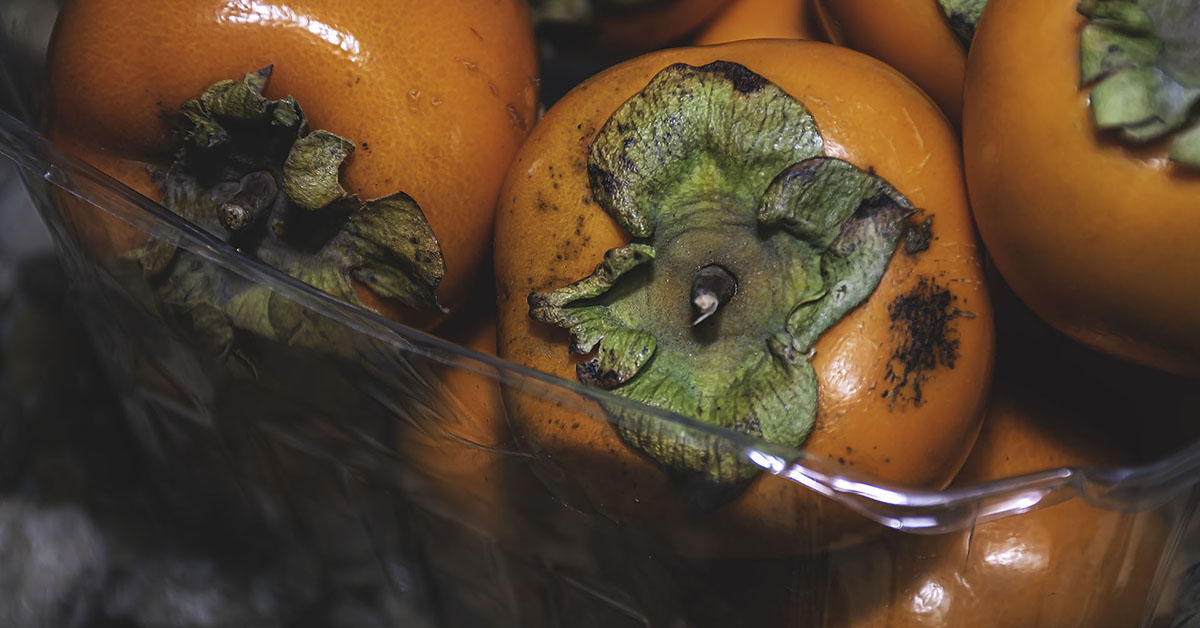 Avoid food waste: smarter food packaging
While we all know about the environmental impacts of plastic packaging, food packaging is crucial to keeping food fresh and safe to eat.
Research organisations and industry are hard at work on developing next-gen packaging that goes beyond basic plastic wrapping. Rather than just serving as a barrier, 'active' and 'intelligent' packaging interacts with the product to prevent spoilage. Nanotechnology is increasingly being explored to create packaging that can release antioxidants or antimicrobials to keep its cargo fresh.
Smart food packaging that can monitor product conditions and detect when food has expired could also be on the horizon. An industry–research collaboration in Australia is working on printable food ink sensors that can gauge food quality by detecting gases produced by bacteria.
Australia will be on its way to halving food waste by 2030 if we avoid food waste with multiple strategies. That includes better industry collaborations, agricultural solutions, more intelligent demand and supply systems, smarter factories, better cold chains, reusing unsold food and innovative packaging; combined with common sense campaigns to help us waste less food in our homes and compost the food that can't be consumed.