The greatest danger at the beach
Our fascination with shark attacks is perhaps best highlighted by the fact that more than 24 million people have viewed YouTube footage of surfer Mick Fanning fighting off a shark at a South African surfing competition in 2015. The threat of a shark attack taps into an evolutionary and primal human fear of threats from wild animals and marine life.
But before you start worrying about what lies beneath when you next hit the beach for a swim, consider this: the likelihood of being attacked by a shark is very low compared to your chances of getting caught in a dangerous rip current, or drowning in some other activity.
In Australia, there have been 315 rip current-related drowning deaths in the past 15 years (2004–2019), compared to a total of 29 fatal shark attacks during the same period. On average, there are 21 deaths per year attributed to rip currents in Australia.
On average, rip currents also account for more human fatalities in Australia each year than bushfires, floods and cyclones combined, based on past.
Research by Surf Life Saving Australia (SLSA) shows that 22% of Australians aged 16–69 have, at least once in their lives, been caught in a rip current unintentionally. More than half of swimmers surveyed by SLSA said they don't always look for a rip before entering the ocean while two in three people who said they could spot a rip, could not do so correctly.
Rips are strong, narrow currents characterised by waves breaking across a wide area. They can occur during conditions of both low and high wave energy conditions on many different types of beaches.
Channelised (fixed) rips are the most common and look like dark gaps between areas of white-water. They occur and tend to stay in the same place for days, weeks or months, depending on ocean conditions.
Flash rips are caused by large surf build up in a short period of time and can appear suddenly without warning. Look for plumes of turbulent and sandy water heading offshore.
Boundary (topographic) rips occur next to headlands and structures like groynes and jetties.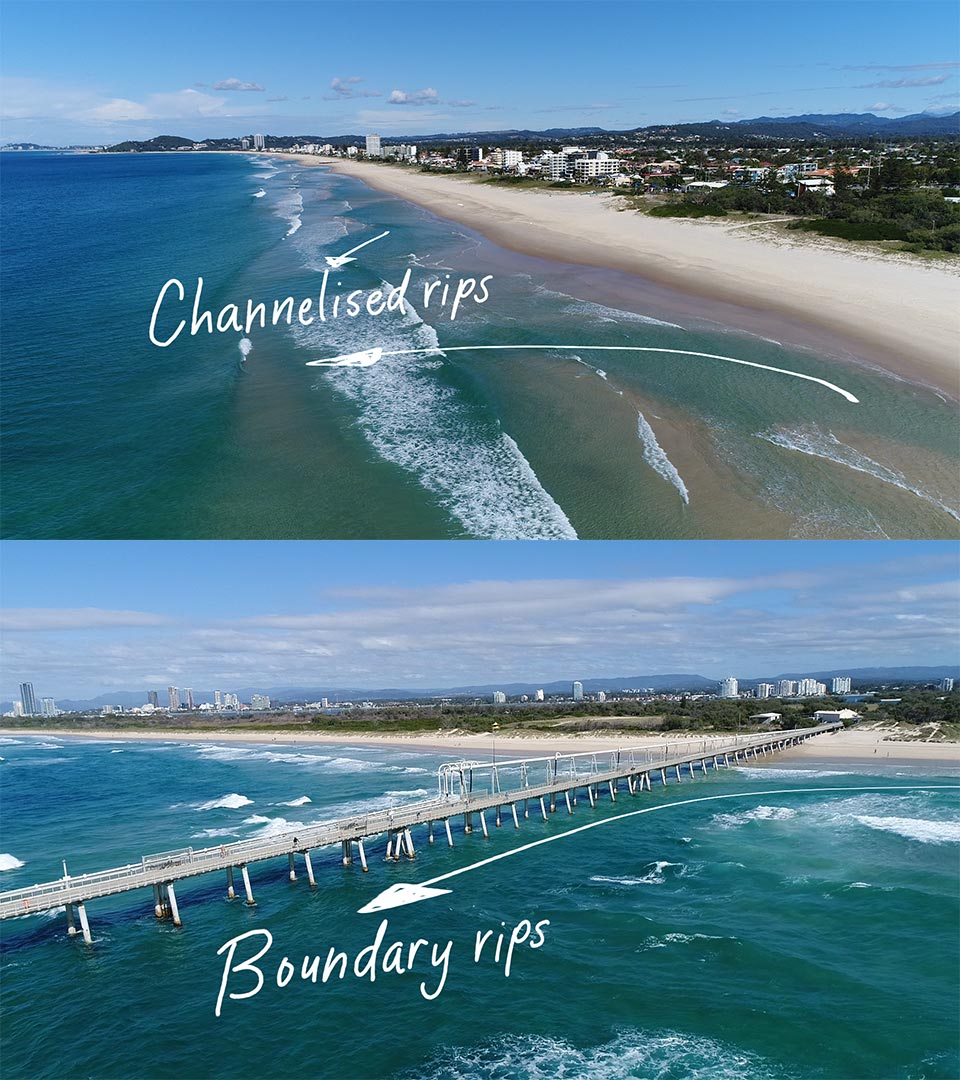 How do you spot a rip? The things to look for are deeper, dark-coloured water, fewer breaking waves, a rippled surface surrounded by smooth waters or anything floating out to sea or foamy, discoloured, sandy, water flowing out beyond the waves.
Commonly promoted safety advice is to escape a rip current by swimming parallel to the beach. However, recent studies have shown some rips re-circulate back into the surf zone meaning floating can be an appropriate escape strategy. Neither of the scenarios is 100 per cent foolproof, and both fail in some scenarios, making simplified safety recommendations challenging.
If you get caught in a rip the most important thing to do is remain calm. Raise an arm and call out for help, so you can be rescued. Float with the current as it may return you to a shallow sandbank, or failing that, swim to the side of the rip towards the breaking waves until you escape the rip current. The best way to avoid a rip current is to swim at a patrolled beach between the red and yellow flags.