How we fight bushfires
A number of techniques are used to contain and extinguish bushfires. Smaller fires are fought directly, by firefighters applying water to the flames, either from the ground or the air. Fuel breaks can be created using hand tools such as rakes and hoes. The method of fighting the fire depends on its intensity.
Fire intensity is described in terms of the number of kilowatts of energy released per metre of the fire front. A controlled hazard-reduction fire usually releases less than 500 kilowatts per metre of energy, while an extreme bushfire can generate more than 100,000 kilowatts per metre.
Fire intensity less than 800 kilowatts per metre can be suppressed with hand tools with water support as a direct attack. More intense fires of up to 2000 kilowatts per metre can be suppressed directly by machines, tankers and water bombers as a direct attack. Direct attack methods are likely to be unsuccessful when fire intensities are greater than 2000 kilowatts per metre.
As the intensity increases indirect attack methods are employed. This can include use of tracked machines to build wide fire breaks, water bombers and fire itself. As intensities at the fire head exceed the suppressible limit (higher than 3000 kilowatts per metre), fire-fighting actions focus on the containment of fire flanks (which will have lower intensities) and protecting lives and property.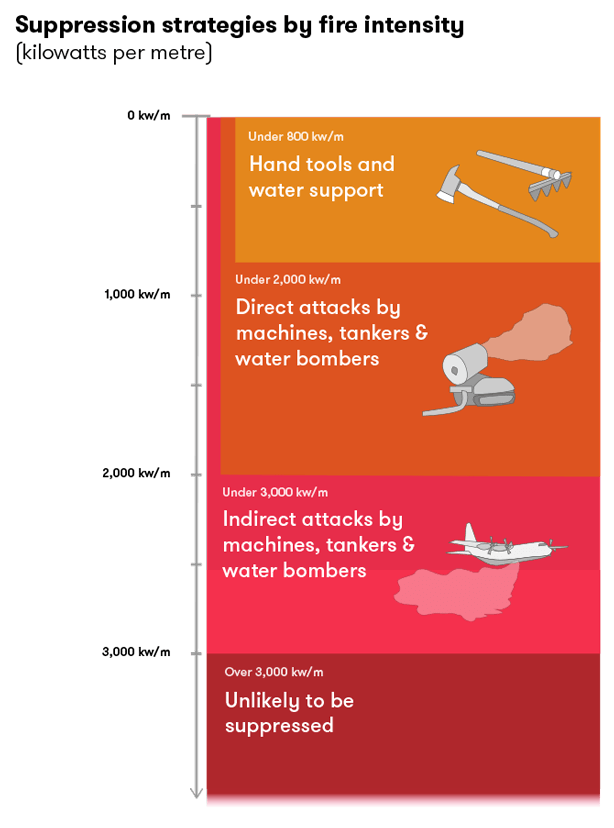 Aircraft, either helicopters or aeroplanes, have widespread use in fighting fires. We've seen the footage on the news of planes or helicopters flying over raging fire fronts, tipping what look like tiny (they're not!) amounts of water onto the flames. The aircraft used can vary in size from relatively small to very large, such as the DC-10 or a 747. Water bombing from aircraft allows for large amounts of water to be dumped in hard to reach places. Sometimes the water incorporates a gel which also helps put out the flames, or a chemical fire retardant, often dyed red so the areas where it's been dropped are clearly visible. The retardant inhibits the fire's ability to ignite fuels, and remains on the vegetation after water has evaporated.
Another way to try and contain a fire is to deliberately burn sections of the fuel in its path, so that there's no flammable material left to fuel it. Because these small fires are intended to 'burn back' to the fire front, this process is known as 'backburning'. It's used to try and stop a fire in its tracks, and also to protect particular areas, such as houses or other infrastructure, by creating a fuel break between them and the fire front.