The mathematics of social distancing
3 April 2020
See all our content on COVID-19
Note: the numbers in this article are not based on any estimates for the Australian population. They are for illustrative purposes only.
Why do we do it?
The main reason for physical distancing (commonly known as social distancing) is to prevent the spread of a virus that causes disease. The fewer people who spread it the fewer become infected, and the better we can care for those who do.
Many viruses—including the novel coronavirus SARS-CoV-2 which causes COVID-19—can live in tiny droplets of water in our lungs.
Once there, these droplets travel on our breath, especially when we cough and sneeze, and can land on other people's faces, infecting them.
The droplets can also land on hands, clothes, and nearby surfaces such as phones. Once they are on our hands, anything we then touch (including our own face) can become a new home for the virus.
You can spread the virus this way before you even know you're infected.
Why is it called physical distancing?
While you may know it as social distancing, technology allows us to interact socially with friends, family and colleagues while not being physically close. The World Health Organization refers to it instead as physical distancing: being social while keeping physically apart.
Physical distancing is when you interact with other people less frequently, or at a distance when you do need to interact—whether it's to prevent spreading the virus, or to prevent you being infected by the virus.
This could be voluntary, like having the option to work from home or going to the shops less often, or it can be enforced, like closing cinemas, parks and other places where people gather and interact.
It also involves keeping your distance when you are around other people and avoiding physical contact such as handshakes or hugs—the aim is to reduce all close contact.
The most important thing to understand is that, to be effective, physical distancing involves everyone—not just infected people. The more people who physically distance themselves from others, the less the virus can spread from person to person.
What about self-isolation?
Self-isolation is a more comprehensive form of physical distancing, when you separate yourself from physically interacting with other people.
Self-isolation is more than just staying at home or another location for the purpose such as a hotel room. It means not visiting the shops, social events or family gatherings, and not allowing visitors into your home. If you're living with other people, it means having good hygiene, cleaning any shared surfaces regularly and keeping away from other people in the house, including while you sleep.
A medical professional or public health official may ask you to self-isolate in the following situations:
Self-quarantine is where you don't feel infected, but you may be. This could be because someone near you has been infected, or because you have recently travelled.
Mandatory self-isolation is where you have tested positive to infection, and a doctor considers you well enough to stay at home (as opposed to hospital isolation).
How does all this help?
The short answer is networks. All of us, in our daily lives, interact with dozens of people. Those people interact with other people, who interact with others, forming a large network that connects everyone in our society.
When you are infected, you can easily pass the virus on to other people. The average number of people you pass it on to is called the 'reproduction number', or R.
Every virus has a basic reproduction number, or R0 (pronounced 'R-nought'). This is the value of R before we do anything, like physical distancing.
For the example below, R0 is three: one person will pass it to an average of three people. Those three people will spread it to three other people in the next round, and so on.
At the tenth round, from just one original person, 59,049 people (3­­10) will be infected, with 88,573 cases in total.
| | | | | | | | | | | | | |
| --- | --- | --- | --- | --- | --- | --- | --- | --- | --- | --- | --- | --- |
| Round | 0 | 1 | 2 | 3 | 4 | 5 | 6 | 7 | 8 | 9 | 10 | Total Cases |
| (R0=3) | 1 | 3 | 9 | 27 | 81 | 243 | 729 | 2187 | 6561 | 19,683 | 59,049 | 88,573 |
With physical distancing you could (for example) get this down to an average of two people (R=2).
Now, at the tenth round, only 1024 people (210) will be infected, with 2047 cases in total.
| | | | | | | | | | | | | |
| --- | --- | --- | --- | --- | --- | --- | --- | --- | --- | --- | --- | --- |
| Round | 0 | 1 | 2 | 3 | 4 | 5 | 6 | 7 | 8 | 9 | 10 | Total Cases |
| (R=2) | 1 | 2 | 4 | 8 | 16 | 32 | 64 | 128 | 256 | 512 | 1024 | 2047 |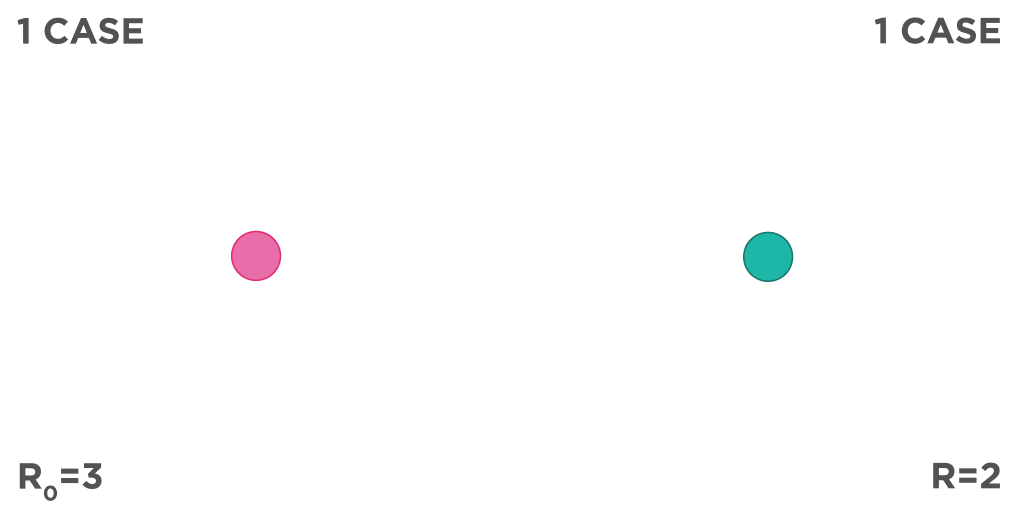 How does the virus that causes COVID-19 compare?
SARS-CoV-2, the virus that causes COVID-19, is currently estimated to have an R0 of between 2 and 3.3, although this number will change as we learn more about it.
A future vaccine or treatment for COVID-19 may give us a lower value of R, but until those are developed the only option we have is physical distancing.
When should we start physical distancing?
During a pandemic, the earlier the better.
We only have a limited number of hospital beds available, and within that, an even smaller number of beds in intensive care units (ICUs). In this example, let us say we have 2000 ICU beds.
Consider two simple scenarios where the same level of physical distancing (R=2) is applied, but at different times—at 100 cases or at 500 cases—and look at seven weeks of transmission. Contrast both of these with a scenario with no distancing.

This is a highly simplified model, assuming that each person does all their transmission in one week, and that no person recovers within 7 weeks.
Scenario

Physical Distancing

New Cases
Week 1

New Cases
Week 2

New Cases
Week 3

New Cases
Week 4

New Cases
Week 5

New Cases
Week 6

New Cases
Week 7

TOTAL CASES

ICU cases (10%)

Without distancing

None (R=R0=3)

100

300

900

2700

8100

24,300

72,900

109,300

10,930

Pink

One third (R=2)

500

1000

2000

4000

8000

16,000

32,000

63,500

6,350

Green

One third (R=2)

100

200

400

800

1600

3200

6400

12,700

1,270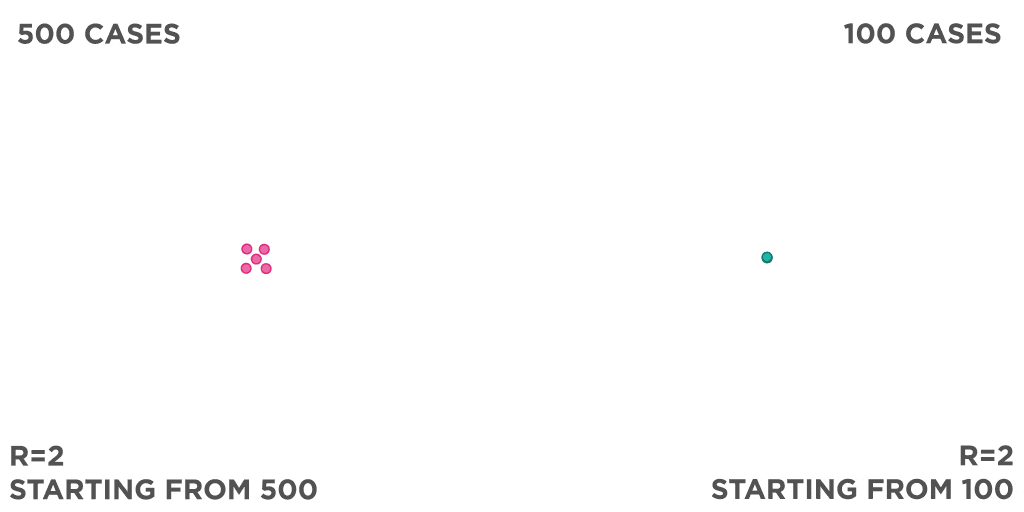 With a limited number of ICU beds, if even only ten per cent of these cases are serious enough to require intensive care, the starting time could mean the difference between life and death.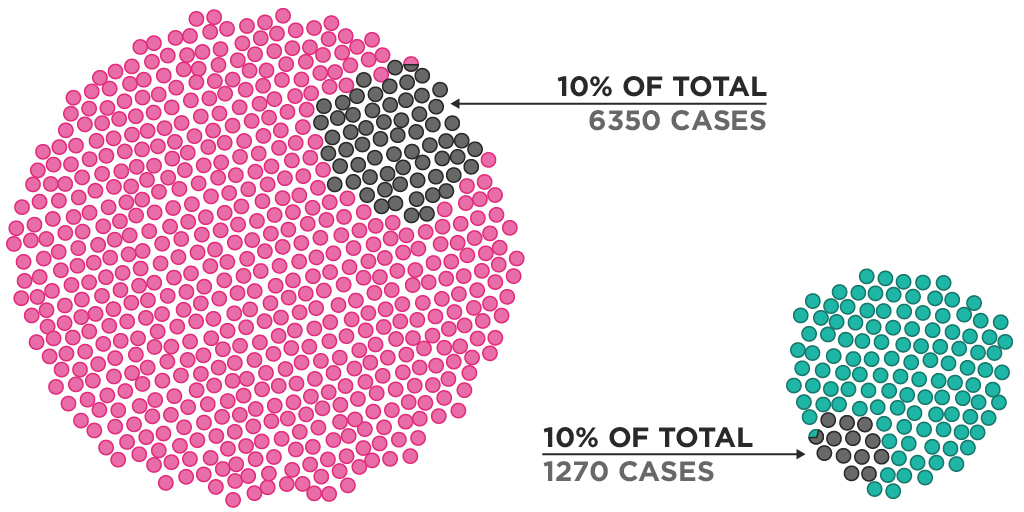 When we started physical distancing at 500 cases, we ended with 6350 serious cases requiring ICU beds, leaving over 4000 people unable to be cared for.
When we started at 100 cases, we ended with 1270 serious cases requiring ICU beds, within the health system's capacity.
When will we know it's working?
Because physical distancing needs to be done before the number of cases is very high, it will initially look like an overreaction.
Initially, new cases will continue to appear at a high rate, as people who were already infected develop symptoms and are tested. During this time, it will seem as if nothing has changed.
Over time, however, the number of new cases will plateau since fewer people are being infected, and eventually it will start to fall—but if we stop physical distancing at this point, the number of new cases could jump back up again. Until we understand more about the virus and what measures are effective in controlling the spread, physical distancing is here to stay.
See all the latest health advice from the Australian Government here