The science of a fluffy pancake
16 December 2017
How can knowing a little chemistry help make a better pancake?
Well, we can ensure that when we make our breakfast that we use the right reactants (ingredients) to favour the desirable chemical reactions that make the delicious flavour and aroma molecules. With that in mind, the following tips may help achieve that fluffy, soft, golden pancake you desire.
Use buttermilk and self-raising flour—the acid/base reaction
Many recipes call for buttermilk and self-raising flour, but why?
Buttermilk is cow's milk fermented with either Lactococcus lactis or Lactobacillus bulgaricus bacteria. This process leads to the primary milk sugar, lactose, being metabolised into lactic acid. The lactic acid reacts with the bicarbonate in the self-raising flour to produce carbon dioxide (CO₂) gas. Bubbles of gas are caught in the batter as it cooks and this is what makes the pancake fluffy. This also explains why you should make your batter fresh. If it sits uncooked for too long, the gas can escape and you'll end up with flat pancakes.
Buttermilk also includes a molecule called diacetyl (or butanedione) that is often produced as a by-product of fermentation. It is one of the molecules that make butter taste like butter (the other main ones are acetoin and acetylpropionyl). This gives your pancakes that gorgeous buttery taste without the extra fats.
But what if you need pancakes and don't have any buttermilk? Just add a little extra baking powder to your self-raising flour and use plain milk. The baking powder provides both the acidic and bicarbonate parts of the reaction. Use about one teaspoon of baking powder per cup of milk. If you only have plain flour, you can add some bicarb soda (or baking soda in the USA) to provide the bicarbonate for the reaction to produce CO₂ gas.
Don't overbeat—the proteins get all tied up
Flour includes glutenin and gliadin proteins that, after exposure to moisture, mix to produce gluten. Gluten is useful as it helps provide the 'bready' structure that holds the gas bubbles inside for a fluffy pancake. If you overbeat the batter, you can release more glutenin and gliadin protein that will make the pancakes tough and rubbery. So, sift your flour and dry ingredients together before adding the wet ingredients, and mix your batter lightly.
Cooking with Maillard
Some reactions need additional energy to occur. And when we're talking about pancakes, one of the key reactions we're hoping to energise is the Maillard reaction (named after French chemist Louis-Camille Maillard and pronounced my-yar).
The Maillard reaction is responsible for the formation of many flavour and aroma compounds. It occurs between amino acids (the building blocks of proteins) and sugars, particularly at temperatures around 140 – 165 °C (280 – 330 °F). Higher temperatures tend to favour another process that affects flavour—caramelisation (which is a dehydration reaction causing sugars to react with other sugars or decompose). Aside from moderate heat, the Maillard reaction also works a little better if the pH of the mixture is above 7 (alkaline).
Along with caramelisation, the Maillard reaction is also responsible for food browning. This is why steamed chicken or vegetables (cooked at 100 °C / 212 °F) don't brown.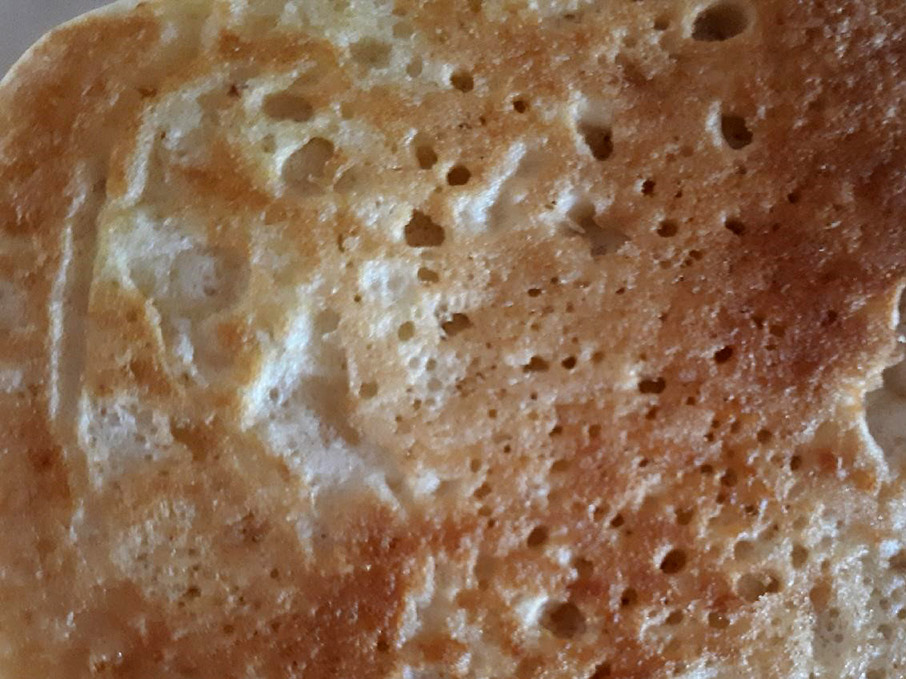 You can help get the Maillard reaction happening by folding in some pre-melted butter to the batter, using a moderate heat, and by increasing the pH a little by adding a bit more bicarb soda.
It is a fine balance—not enough Maillard reaction and the pancakes will not be golden or have the wonderful smell and taste—too much Maillard reaction and the pancakes will taste burnt.
Mum's recipe
So, the key to fluffy, soft, golden pancakes is to keep the CO₂ gas in, not to form too much gluten, and get just the right amount of Maillard reaction. Simple right?
Well, here's a good start for your own kitchen experimenting: Sift 1¾ cup of self-raising flour with ½ teaspoon of bi-carb soda and 1 tablespoon of caster sugar. Lightly beat 2 eggs with 1½ cups of buttermilk and 60 grams of melted butter. Add to dry ingredients and whisk lightly to combine, then cook on a medium heat (using a little butter in the pan). Flip them gently when you see the batter begin to firm on the base and sides and bubbles appear on the top.