Who benefits from vaccination?
Getting immunised against disease is one of the smartest steps you can take for your health. Not only will you directly experience the protective benefits that immunisation provides, but you'll also be protecting your family and your community.
If you are immunised against a particular disease—measles, for example—your immune system is able to fight off the infection before you start to get sick from it.
When enough people in a given population are immunised, the spread of disease from one person to another is stopped in a phenomenon called 'herd immunity'. This whole-of-community immunity means that even those people who are unable to be vaccinated in a population are effectively protected from a disease.
Herd immunity is especially important for people who may still be susceptible to infection, even when there is a vaccine available. Some people are unable to receive vaccinations: they may be too young, or their immune systems may not work properly. It's these individuals whose safety depends on the herd immunity effect, which means the rest of the community has an obligation to contribute by getting vaccinated.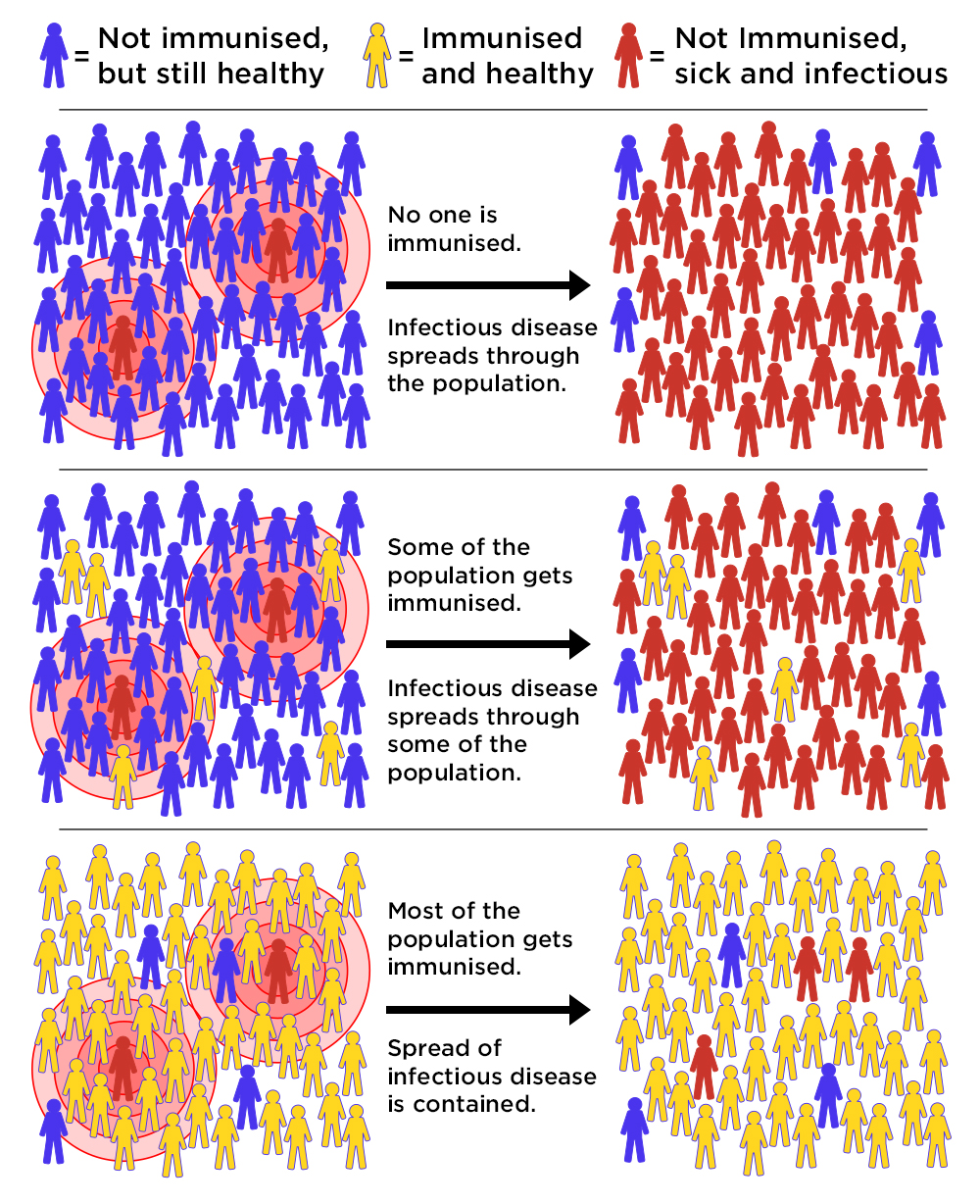 It's also important for individuals who may have received a vaccine, but are still partially susceptible to infection. No vaccine will always be 100 per cent effective for everyone—some individuals may have genetic factors or other medical conditions that impair a vaccine's ability to fully protect them from the disease.
Exactly how many people need to be vaccinated to achieve sufficient herd immunity depends on how contagious a particular disease is. In the case of a highly infectious disease such as measles, more than 95% of the population must be vaccinated to prevent transmission of the disease. We've been able to completely eradicate some diseases (such as smallpox) through effective vaccination rates, as well as achieving enough control over other diseases to prevent more widespread outbreaks from occurring.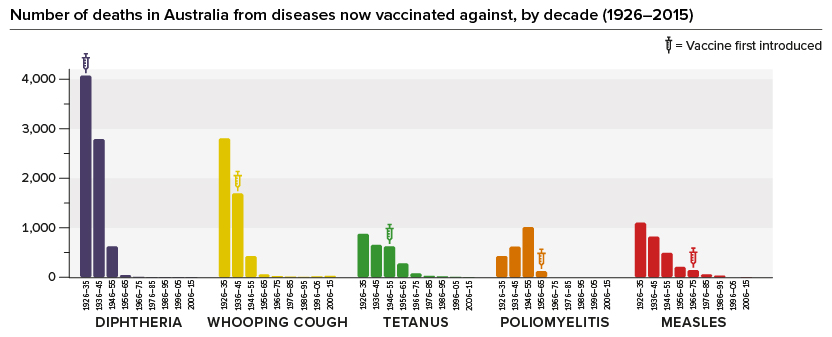 Along with improved health care, vaccination has been able to lower the death rate of numerous diseases even further. The syringe icon indicates when a vaccine was introduced.
Of course, by receiving a vaccine, you benefit directly from it as well! By preventing infection, vaccines can also provide protection against the long-term consequences associated with chronic infections, where the pathogen persists in the body after the initial illness has passed. Persistent viral infections in particular are known to lead to later complications; for example, vaccine-preventable hepatitis B virus infection can lead to liver damage and cancer. In the case of viral infections, vaccines are generally not capable of getting rid of the disease once it's been acquired, which is why preventative immunisation is so important.
The vaccination you receive isn't only there to protect you. Every disease you protect yourself from will also keep your family and community safe. Everyone benefits.