Australian science and the 2020 US presidential election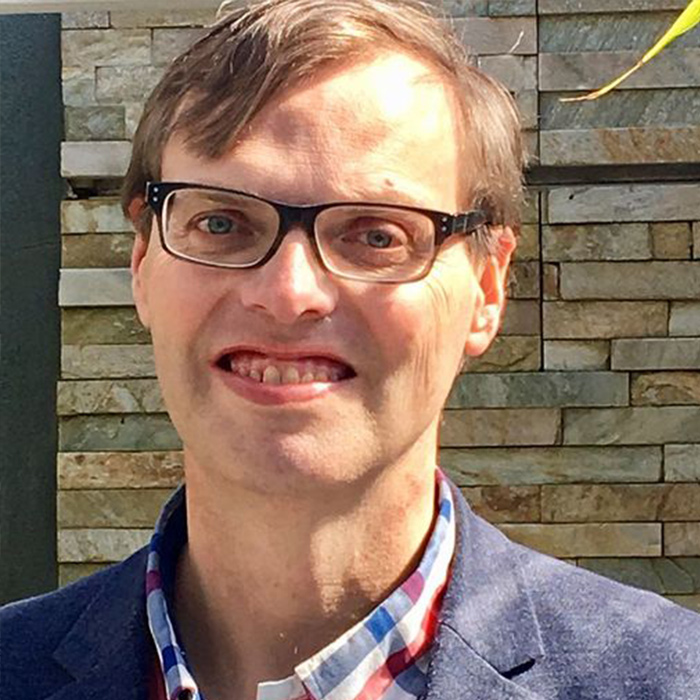 Author: Chris Anderson
Director, Science Policy
Australian Academy of Science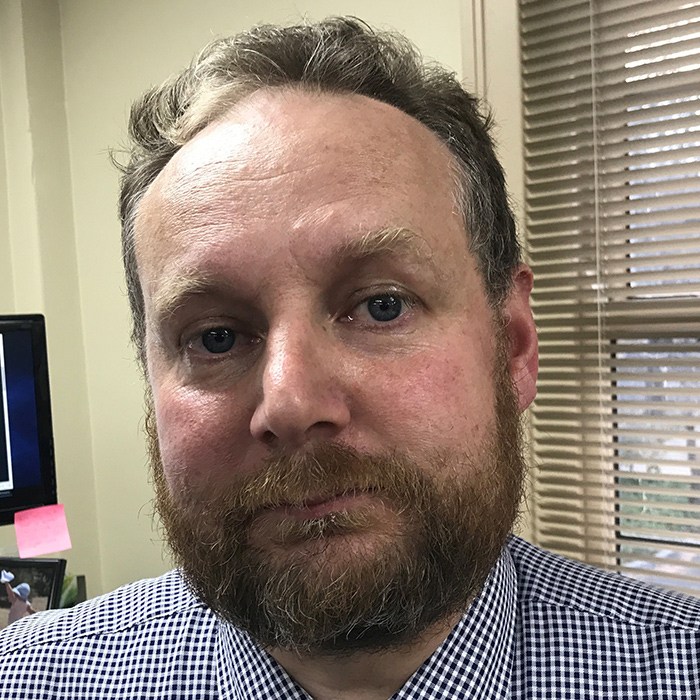 Author: Dr Stuart Barrow
Senior Policy Analyst
Australian Academy of Science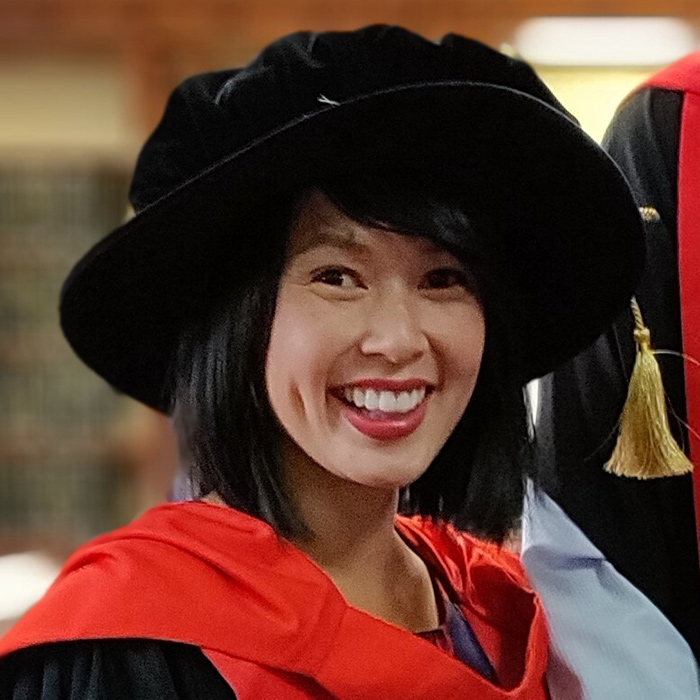 Author: Dr Jana Phan
Policy Analyst
Australian Academy of Science
---
This analysis has the endorsement of the Secretary for Science Policy, President and Chief Executive of the Australian Academy of Science.
---
The outcome of the United States presidential election will be consequential for Australian and global science and science policy.
Science is unusually prominent in this election, primarily due to the COVID-19 pandemic but also because of the increased intensity and frequency of the wildfires on the US west coast.
The US is a global science superpower and influences Australian science. The policies of the next president will affect Australian science.
A re-elected Trump will continue to question the role of scientific evidence in policy and deprioritise environmental and health research. He will focus on technology research and space exploration.
A Biden presidency will see the US rejoin the Paris climate agreement and re-engage with the World Health Organization (WHO). He will restore funding to environmental and climate programs and, most importantly for Australia, pressure other nations to raise their emissions reductions ambitions.
Strategic competition, including science and technology, with China, will remain a feature of US policy no matter the result.
---
Every United States election has profound implications for Australia. The 2020 presidential election presents two stark paths for the direction of scientific research.
The prospects and trajectories for science policy in both the US and globally will be affected by the result of the election this week. The past four years have seen a significant change in direction in a range of science policy-related fields, from climate change to the geopolitics of international science, and of course in the management of the COVID-19 global pandemic.
This article outlines the importance of US policy to Australian science, the record and trajectories of either a re-elected Trump administration or a new Biden administration, the attitudes of the American public on science, and what American scientists are saying about the election.
Science policy issues in the US election
Trust in expertise and science has in recent decades become a partisan issue in the US. While most Americans share the belief that science creates opportunities, and that the federal government should invest in basic science, opinions diverge primarily on party affiliation or education backgrounds on the role of science in society and confidence in the scientific community.1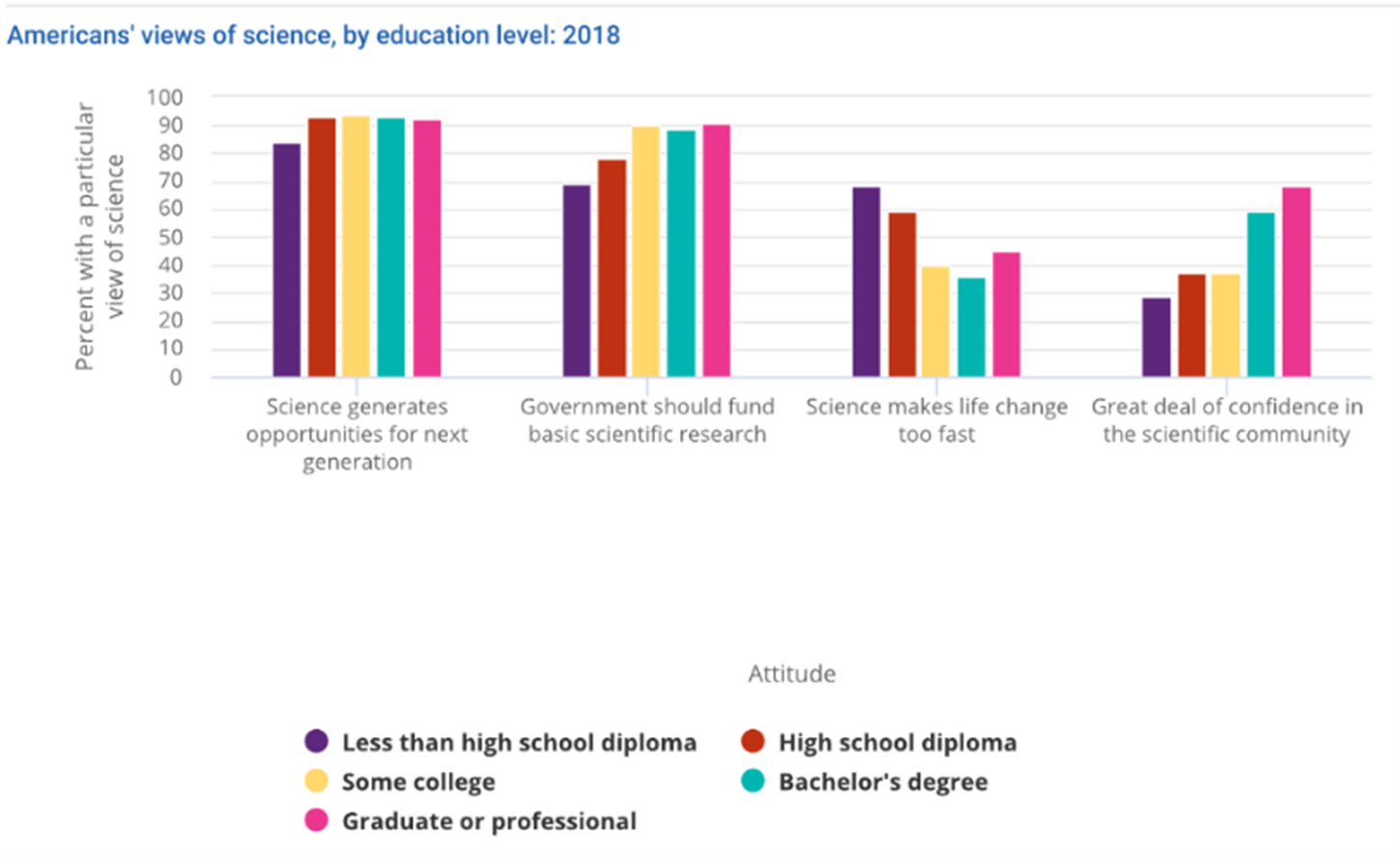 While the economy remains the top issue for voters, science has a more prominent than usual role in the US election primarily because of the nation's response to the global COVID-19 pandemic. Additionally, wildfires on the west coast have brought divergent views between the candidates on climate change onto the agenda.
Pew Research reports that the public overwhelmingly supports American leadership in scientific advancement and space exploration. Despite this, there are mixed feelings about the value to society of advances in artificial intelligence, gene technology and automation. Public support for policies to address climate change has increased, though a substantial minority (31 per cent) supports jobs over the environment.2
Role and nature of the US in global science
The US is a major global science superpower and Australia's leading collaborator in science and technology.
The US leads global science. As of 2017, the US was the largest global spender in research and development at around US$549 billion, which represented 25% of global R&D expenditure. China represented 23% of global R&D expenditure, followed by Japan (8%), Germany (6%) and South Korea (4%). China's R&D is growing more rapidly than the US: between 2000 and 2017 China accounted for 32% of the global growth in R&D spending, followed by US (20%) and the EU (17%).
The bulk of US R&D is performed by the business sector (73%) with the higher education sector accounting for 13% and the federal government 10%. In 2018 the US accounted for 17% of global science and engineering research papers, down from 28% in 2000. By comparison, in 2018 China produced 21%, up from 5% in 2000, and the EU 24%, down from 34% in 2000. Australia's share is around 3 to 4%.1
The US science and engineering workforce is a global one: 30% of workers in US science and engineering workforce were born outside the US, with more than half of doctorate holders working in engineering, computer science and mathematics being foreign-born.
Australian science is highly connected to the US science enterprise. Just over 27% of Australian-authored publications have a US co-author, and Australia is the 6th most frequent collaborator with US academics, with more than 6% of US-authored publications having an Australian co-author.
Record and potential of the Trump presidency
The Trump administration has had a mixed record on support for science. It has supported continuously reducing the science budgets for agencies like the National Institutes of Health and the National Science Foundation. At the same time, it has sought to prioritise investments in artificial intelligence (AI) and quantum technologies, as well as to direct the national space agency—NASA—to prioritise space exploration over Earth observation.3 American scientists have often criticised the administration's politicisation of science around issues including climate change, biotechnology, and the response to the pandemic.4,5
Scientists point to crucial decisions that symbolise the Trump administration's attitude to science—the withdrawal of the US from the Paris Agreement, and the decision to withdraw from the World Health Organisation.6 There is a tendency within American conservatism that either regards science as an impediment to the conduct of free enterprise, or views some science, such as stem cell research, as antithetical to conservative values.
The administration has also harmed the free movement of scientists and ideas. Travel restrictions have made it more difficult for foreigners from different countries to work or study in the US. The Department of Homeland Security has proposed a new rule to restrict international student visas to between two and four years.7 Rising concerns about Chinese technological advancements have resulted in investigations into links between US-based scientists and China, leading to Chinese claims of McCarthyism—a claim familiar to Australians.
A second term for President Trump would see a further fracturing of the relationship and influence of science in the executive. Campaigning by many scientific journals, associations and prominent US scientists against the President's re-election all but guarantees this. It would also involve congressional debates over the number of climate sceptics in the National Oceanic and Atmospheric Administration (NOAA), and whether the US can withdraw from the World Health Organization.
For climate policy, a new Trump term would likely see environmental regulatory rollbacks become locked in. It would also give the Trump administration another four years to replace scientists in government agencies with pro-industry appointments.8 According to a report by the Rhodium Group, Trump executive orders have the potential to add 1.8 billion tonnes of CO2 to the atmosphere by 2035.9
The Trump White House Office for Science and Technology Policy (OSTP) is likely to continue efforts to elevate research integrity issues. Earlier this year, the OSTP proposed an executive order expanding open access.10-11 While this has been delayed after pushback from scholarly publishers and associations, it is likely that the issue will return but could be framed around proposals to 'do something' about alleged research misconduct, reproducibility and replication.12
Australia should expect more significant efforts to decouple the US and its allies from China in crucial research arenas. It is expected that there would be greater efforts to establish 'five eyes' research and technology alliances and initiatives, which may be backed by additional funding like the Mars space mission, particularly in technology and life sciences. In such a case, this will reinforce the leading role of collaboration between US and Australian scientists in these disciplines—but not in science fields which are perceived to be anti-business or anti-free enterprise. A re-elected Trump administration could aid Australian universities in their efforts to re-establish the international student market through continuing to maintain immigration restrictions on foreign students.
Science and 'President Biden'
Prospects for science under a President Biden seem likely to be a mix of continuity and reversion. Biden has promised to rejoin the Paris Agreement and will keep the US in the World Health Organization. The US may even join international pandemic-related collaborations like COVAX. Biden is campaigning on an aggressive climate platform, including investments in clean energy research and development, and low carbon-intensive infrastructure. Much of his capacity to enact this plan would depend on whether the Democrats take control of the Senate. Additionally, the Democrats' ability to pass or undo Trump-era environmental regulation rollbacks may be affected by the 6-3 conservative majority on the Supreme Court.
The top and immediate priority for science would be recalibrating the US response to the global pandemic. Biden will also oversee an increased emphasis on medical research, particularly by creating a new agency with the sole mission of finding new cures and treatments for cancer and other diseases.
Biden has promised to quickly fill the position of the chief scientific advisor, the Director of the White House Office of Science and Technology Policy. Biden will also need to nominate a new head of the National Institutes for Health (the current occupant is leaving before the end of 2021). He will roll back Trump-era rules on scientific integrity which are designed to limit scientific input to decision-making. The future of initiatives around scientific integrity and open access will depend on the occupant of the Director of the OSTP. Still, the expectation is that such initiatives will stall.
Trump-era directions in space policy—the creation of a space force and the moonshot mission to Mars—are likely to remain, but it will likely lean more on the private sector, such as companies like SpaceX.13 NASA programs in climate monitoring which have come under pressure or been cut will probably be restored. Space exploration is extraordinarily popular amongst Americans (81% support in the last Pew survey), and is one of the remaining bipartisan science endeavours.
As far as Australia is concerned, the most dramatic change will come in climate diplomacy. The delay of COP26 to November 2021 means that Australia will lack the protection a Trump administration might give Australia and other countries like Brazil, which have resisted efforts to name additional accelerated climate targets. With domestic pressure in Europe and the UK to adopt climate protectionism, as well as Chinese and Japanese net-zero emission pledges, there will be more significant international pressure for a more certain 2030 to 2050 emissions reduction timetable from the Australian government.
Biden has also pledged to roll back Trump-era immigration restrictions on scientists and engineers. A more positive attitude to international students could provide additional competition for Australian international education.14
What scientists are saying
Usually remaining publicly non-partisan, prominent researchers, leading scientific publishers and research and health institutions have all expressed partisan views regarding the 2020 US Presidential election.6,10,15–17 Climate change and the President's handling of the US response to the global COVID‑19 pandemic were both cited as major influences in the move to voice their concerns.6
The value of expertise, scientific integrity and global cooperation in science and public health has been undermined as the President habitually ignores scientific evidence.5,18 Signed by 34 editors, The New England Journal of Medicine's statement described the Trump presidency's handling of the COVID‑19 pandemic as taking a crisis and turning it into a tragedy.17 The editors argue that national leaders have failed to recognise the opportunity to restrict the virus's spread and prevent widespread illness and a still-increasing death toll. Other scientific publications such as Nature and Scientific American, as well as an open letter signed by 81 Nobel laureates, have urged a vote against President Trump.
Government science agencies have a crucial role in ensuring that government policies are informed using the best available evidence. A survey of scientists across 16 US federal agencies, conducted by the Union of Concerned Scientists and Iowa State University, revealed the challenges to science policy under President Trump's administration. Challenges include censorship and self-censorship, political interference in scientists' work, low morale, decreased agency effectiveness, and dwindling resources".19 The survey also revealed that "reductions [in staffing have] made it more difficult for agencies to fulfil their missions".
The scientific community is becoming increasingly concerned with the President's disregard for evidence and the value of science. Devaluing the importance of evidence may have negative consequences on the publics' trust in science. The President has consistently challenged the authority of experts in science and health agencies. In one example, the jobs of employees at a Federal Science Agency, the National Oceanic and Atmospheric Administration, were threatened when they did not back the President's misinformed statement regarding the impact of Hurricane Dorian. The events political reactions that ensued undermining the agency's scientific integrity.20,21
Implications for Australian science
The US election, no matter the result, will affect Australian science and science policy. The US status as a global science superpower means that the policies charted by the next occupant of the White House will impact on the direction of a range of science policy questions: from climate to disease control, space exploration, technology and the conduct of science itself.
---
The production of this analysis was supported by staff of the Australian Academy of Science: Chris Anderson, Dr Stuart Barrow, Dr Jana Phan and Anna-Maria Arabia. Edited by Robyn Diamond.
Views expressed in this feature remain those of the authors.
The authors declare no conflicts of interest.
---
References
National Science Foundation. The State of U.S Science and Engineering 2020. Science and Labor Force https://ncses.nsf.gov/pubs/nsb20201 (2020).
Pew Research Centre. Public Views About Science in the United States. https://www.pewresearch.org/science/fact-sheet/public-views-about-science-in-the-united-states/ (2020).
Executive Office of the President. Fiscal Year (FY) 2022 Administration Research and Development Budget Priorities and Cross-cutting Actions. 10 (2020).
Klein, C. Scientists Who Don't Believe in Climate Change Are Now Leading a Top Environmental Agency. Vanity Fair (2020).
Beaumont, P. Top US immunologist quits health role over Trump COVID response. The Guardian (2020).
Viglione, G. Scientists strongly back Joe Biden for US president in Nature poll. Nature https://www.nature.com/articles/d41586-020-02963-5 (2020).
Tollefson, J. How Trump damaged science - and why it could take decades to recover. Nature vol. 586 190–194 (2020).
Temple, J. Climate scientists are terrified of a second Trump term |. MIT Technology Review (2020).
Hannah Pitt, Kate Larsen, M. Y. The Undoing of US Climate Policy: The Emissions Impact of Trump-Era Rollbacks. https://rhg.com/research/the-rollback-of-us-climate-policy/ (2020).
Why Nature supports Joe Biden for US president. Nature vol. 586 335 (2020).
Brainard, J. Will Trump White House tear down journal paywalls? Many anxiously await a decision. Science (80-. ). (2020) doi:10.1126/science.abc9320.
Yong, E. How the GOP Could Use Science's Reform Movement Against It. Atl. 1–7 (2017).
Feldscher, J. Biden's space policy: One giant leap for climate change. POLITICO (2020).
Maxmen, A., Subbaraman, N., Tollefson, J., Viglione, G. & Witze, A. What a Joe Biden presidency would mean for five key science issues. Nature vol. 586 177–180 (2020).
Thorp, H. H. Not throwing away our shot. Science (2020).
Scientific American. Scientific American endorses Joe Biden. Scientific American https://www.scientificamerican.com/article/scientific-american-endorses-joe-biden1/ (2020).
Dying in a leadership vacuum. N. Engl. J. Med. 383, 1479–1480 (2020).
Thorp, H. H. Trump lied about science. Science vol. 369 1409 (2020).
Centre for Science and Democracy. Science under President Trump: voices of scientists across 16 Federal Agencies. https://www.ucsusa.org/sites/default/files/attach/2018/08/science-under-trump-report.pdf.
Flavelle, C., Friedman, L. & Baker, P. Commerce chief threatened firings at NOAA after Trump's Dorian tweets, sources say. The New York Times (2020).
Baker, P. & Mervosh, S. A presidential storm leaves forecasters rebuked. The New York Times (2019).