Can a broken windscreen be recycled?
It's Recycling 101: glass can be recycled, right? While it's perfectly normal to (gently) throw an empty glass bottle into the recycling bin, not all glass is created equal. Generally speaking, more complex materials are harder to recycle, thanks to the difficulty involved in separating their different component parts. This creates an end-of-life conundrum.
The types of glass used to make car windshields and car windows are examples of such a materials. With windshields, a layer of plastic film (polyvinyl butyral) is sandwiched between two layers of safety glass, while tempered glass, a type of safety glass, is used for the windows. This is what stops them from shattering into dangerous shards when they break—it's specially designed with our safety in mind, rather than ease of end-of-use recycling. Because of this, glass from windscreens can't be processed through the normal glass recycling system—at least, not in Australia—so it generally ends up in landfill.
We can't use automotive glass to make new glass, as we do with the other types of glass we toss into our recycling bins at home. But what if we don't try to make it into new glass, but use its fundamental elements to produce a completely different material?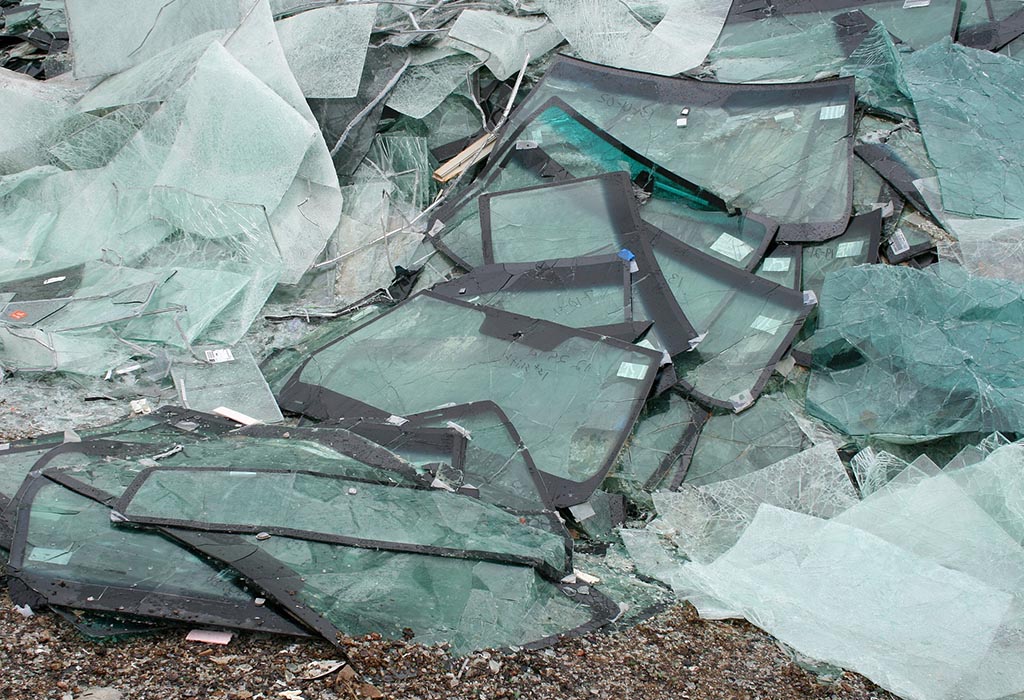 Glass is made of silica (SiO₂, a compound of silicon and oxygen) and other oxides. If we react old windscreen glass in a furnace at 1550  °C, along with some iron oxide, we can produce a useful ferro-silicon alloy that has range of industrial applications, including as a valuable alloy in the manufacture of steel. The reaction is a reduction reaction, where oxygen from both the iron oxide (Fe₂O₃) and silica (SiO₂) is pulled out of these compounds.
To do this, we need some carbon in the mix, which acts as the reductant, taking the oxygen from the two oxides to form carbon monoxide (CO) gas. And guess what makes a nice carbon source for this reaction? A type of plastic called bakelite which is used in—you guessed it—cars! Bakelite is a thermoset, meaning it can't be remoulded and is therefore difficult to recycle using conventional approaches. It generally ends up in landfill.
This method is yet to be commercialised, but it could offer a future method of efficient recycling for automotive glass and much of the plastic found in cars. Using the 're-forming' process bypasses the need to separate the layers of glass from the layers of plastic sandwiched between them—the sort of chore that makes traditional recycling of these types of composite products uneconomical.
Rather than mining quartz to obtain silicon, we can look to old windscreens as a potential resource, mixing them with the plastics from cars to create new pathways for processing these composite materials. It's a potential win-win situation for industry and the environment.