Turning old wheels into new steel
We produce a lot of waste, and it's causing problems. Landfills are filling up at an alarming rate and even recycling schemes are starting to buckle under the weight of what we throw away.
However, treating waste products as a valuable resource can lead to a raft of new and sustainable innovations, such as using old tyres to replace coal in steel manufacturing processes.
Steel is a fundamental building material, made primarily of iron alloyed with carbon. When we extract iron ore from the ground it's not pure iron metal—it's in the form of iron oxide (a compound of iron and oxygen, FeO, FeO₂ or Fe₂O₃).
To make steel, we need to get rid of the oxygen through a chemical process known as reduction. Carbon is an excellent reductant, and when you combine the iron oxide with carbon at high temperatures, the carbon pulls the oxygen out of the iron oxide and it's released as carbon dioxide gas, leaving pure iron.
High temperatures are used for this reaction—around 1550 °C—and a very high-grade form of coal, called metallurgical coke, is used as the carbon source. This high-grade coal is very resource-intensive to produce.
If only there were other carbon sources that were cheap and easy to obtain …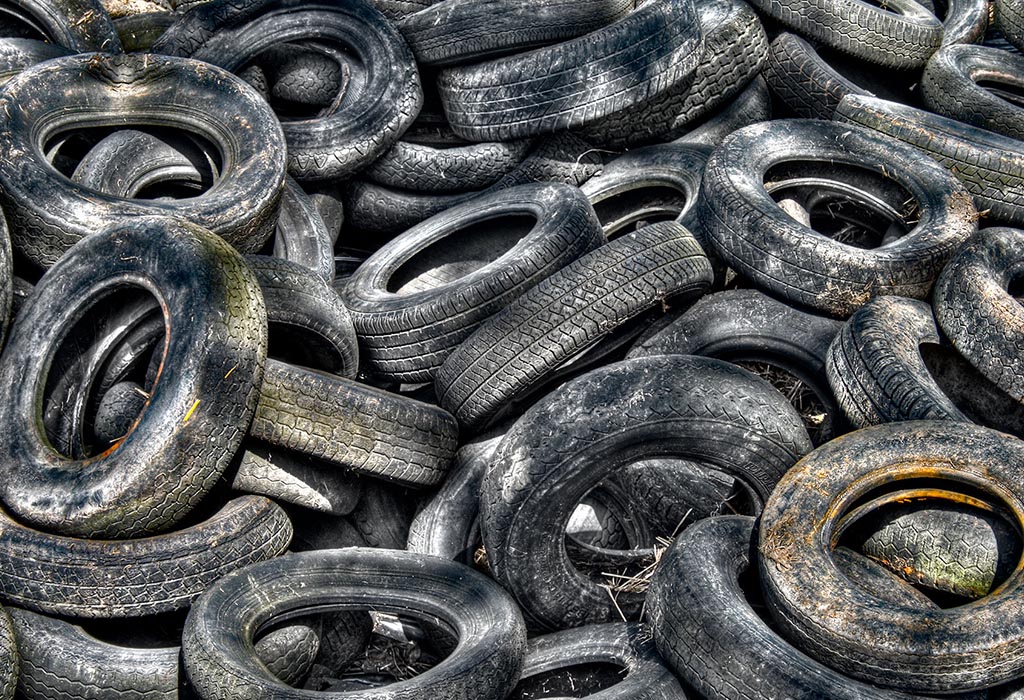 Take an ordinary old rubber car tyre, same as the ones that happen to be sitting around in landfills all around the world. It's made of a polymer that's basically just a mixture of carbon and hydrogen (plus a couple of other elements)—what if we could use this carbon instead?
Well, it turns out that we can.
Researchers at the University of New South Wales Centre for Sustainable Materials Research and Technology (SMaRT), led by Australian Academy of Science Fellow Professor Veena Sahajwalla, have developed a method called 'polymer injection technology' that uses shredded-up car tyres to help manufacture steel.
The car tyres have their steel rims removed and are then shredded to pieces of less than 5 millimetres in size. The shredded rubber polymer is then injected straight into the furnace to react with iron oxide to make the iron needed for the steel.
Because it's being injected directly into the furnace, which is already at the high temperature required for the reaction (1550 °C), the polymer reacts extremely fast. It breaks down into small molecules, and the noxious products that are produced when tyres are combusted at lower temperatures don't form. The small molecules also efficiently progress the reduction reaction needed to convert the iron oxide into iron.
Another useful thing about this reaction is that it can exploit both gaseous and solid forms of carbon, improving the efficiency of the process. And other types of plastic polymers can be used as well as tyre rubber—the carbon from a mixture of coke and HDPE (high density polyethylene) plastics also plays a more efficient role in reduction of iron oxide compared to coke alone.
The 're-forming' of rubber in this steel-making process—breaking it down to exploit its elemental make-up, rather than using it to simply make another rubber product—has both economic and environmental benefits … a win-win outcome!
Waste can indeed become a valuable source of useful materials—one car-owner's trash can be a scientist's or engineer's treasure.