Using waste to clean up waste
Mining operations and other industrial activities around the world have resulted in a large degree of mercury pollution and contamination. Mercury is highly toxic: it's dangerous on an ecosystem level and to human health. Nearly 15 million people around the world are affected by mercury pollution due to artisanal and small-scale gold mining alone.
An innovative idea that has been developed into a reality uses limonene (orange oil)—a waste product of the citrus industry—and sulfur—a waste product of the petroleum industry—to make a polymer that can clean up mercury pollution.
Around 70 million tonnes of sulfur are generated each year as a by-product of petroleum refining. The citrus industry produces around 70 thousand tonnes of limonene from discarded orange peels. Scientists at Flinders University in Adelaide developed a way of combining these two products, and the reaction of the two produces a polymer called sulfur-limonene polysulfide that is capable of binding mercury.
The underlying chemistry behind how this polymer works is the fact that sulfur and mercury 'stick to' each other very easily and will form a strongly-bonded compound. So why not just use plain old sulfur to clean up the mercury? Well, sulfur on its own is highly crystalline and brittle, which makes it hard to use in a practical sense. In addition, sulfur on its own can nourish bacteria that produce an extremely toxic compound called methylmercury, making the problem worse.
Incorporating the sulfur into the polymer is essentially a means of making the usually brittle sulfur flexible, so it can be used as a coating or moulded device with a large surface area. Like many other polymers, the polymer is made from several carbon rings linked together by chains of sulfur. The end product is a flexible polymer that contains long strings of sulfur atoms, with sites available to bond any mercury it comes into contact with. The sulfur atoms are capable of bonding with both mercury that's dissolved in water (in its ionic form Hg²⁺) and also mercury metal, the form in which it would occur in soils.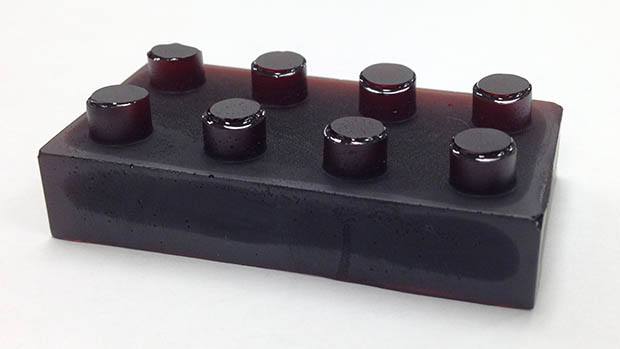 The polymer can be manipulated into different shapes and forms. By lining containers or filters with this polymer, contaminated water is cleaned as the mercury is stripped out by the polymer. The polymer has another neat feature—it changes colour from red to yellow after it's bound the mercury, so it can also act as a sensor to simply detect the presence of mercury in a potentially contaminated substance.
Researchers have even developed another similar polymer from used cooking oil and sulfur that can remove mercury from air, water and soil. This polymer could trap several different forms of mercury, such as mercury metal, mercury gas and different mercury-containing compounds.
Both of these methods not only make use of products that would otherwise have been seen simply as useless waste—they also have the potential to help remediate contaminated land and water and have a huge impact on the health of millions of people around the globe.