Why does copper turn green?
Published 27 June 2022
Ever seen a statue or old colonial roof that looks a little green around the edges?
That's due to patina.
A patina finish is a surface change that has grown more beautiful with age (something many of us strive to do). Scientifically speaking, patina is the green or brown film that forms naturally on the surface of copper due to a series of chemical reactions.
Copper forms a patina when exposed to oxygen and weathering over time. You will see this change in colour on old roofing, copper statues and – if you have ever been to Canberra – on the roof of the Shine Dome at the Australian Academy of Science.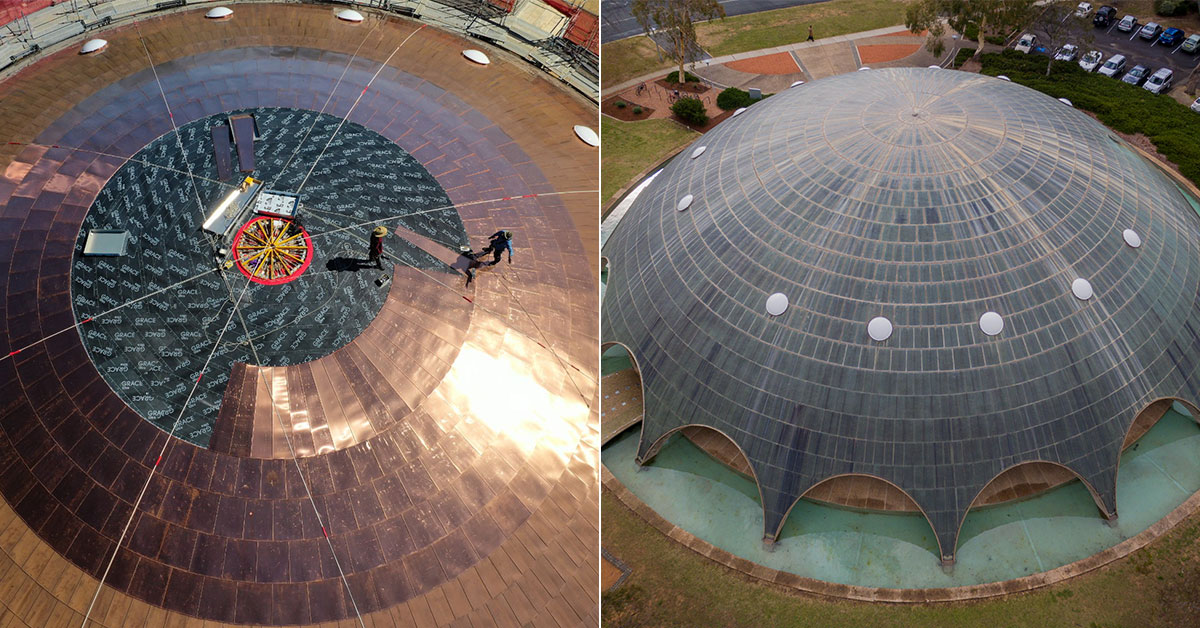 These natural changes to copper objects happen over time as the metal oxidises, making copper a one-of-a-kind symbol of heritage that's hard to replicate.
The chemical reaction
The formation of the patina is similar to how rust forms on iron. Both reactions happen when oxygen in the air interacts with the metal atoms in the presence of water.
Copper will start to react with the oxygen in the air to form copper oxide.
4Cu + O2 → 2Cu2O [reddish/pink]
The copper oxide will continue reacting to oxygen over time.
2Cu2O + O2 → 4CuO [black]
As the copper oxide continues to react with carbon dioxide and water in the air it coats the surface with that iconic blue-green patina colour.
2CuO + CO2 + H2O → Cu2CO3(OH)2 [patina]
Depending on the availability of carbon dioxide and water in the air, different chemical reactions occur to turn the copper oxide shades of blue, green, and purple. The city the copper is in will impact its final colour. For example, larger cities tend to have more aerosol sulfates (produced from burning fossil fuels) which turns the copper oxide a dark shade of green and emerald.
The unique balance of chemicals and time that each copper surface experiences will determine what different colours you see.
There is a reason that a patina surface has come to be associated with beauty. It is a visual representation of time and a testament to the object's ability to withstand its tests.