reSolve features at national conference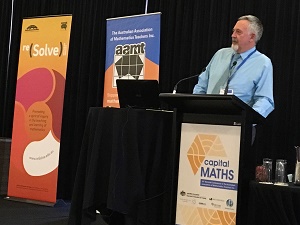 Members of the reSolve team recently attended the Australian Association of Mathematics Teachers (AAMT) biennial conference in Canberra. Over the three days the team, including some special topics writers, presented seven workshops. These workshops highlighted the classroom resources being developed and the current professional learning modules, and provided a sneak peek at some upcoming special topics resources.
The AAMT conference brings together hundreds of primary, secondary and tertiary teachers; teacher educators; researchers; and representatives of governments and employing bodies. Participants find out about the latest events and trends in mathematics education on a national and an international scale, so it was a great opportunity for reSolve to gain exposure and engagement.
The reSolve workshop sessions were well attended, and participants enthusiastically embraced the spirit of inquiry in the resources.