Australian–French Entrepreneurship Challenge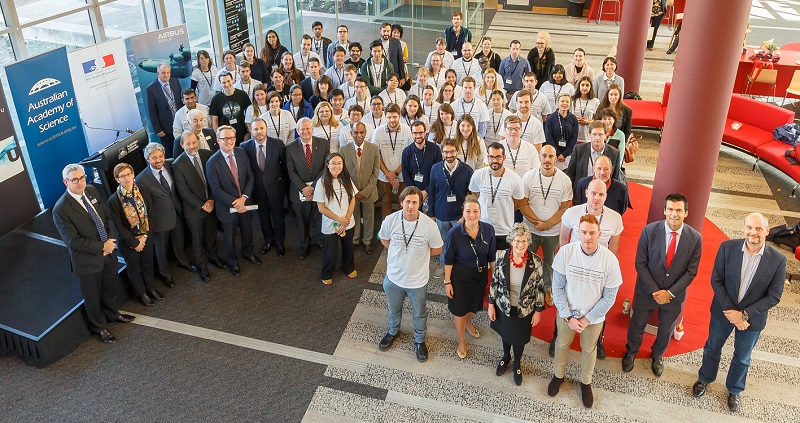 Status
The call for applications to participate in the second Australian–French Entrepreneurship Challenge is now open. The deadline for applications has been extended to COB Monday 22 May 2017.
Details
Today's PhD students are the drivers of tomorrow's Australian innovation economy
Australian PhD students are future innovators, using their ideas to drive successful entrepreneurial endeavours. Teaching today's PhD students key entrepreneurial skills will equip tomorrow's business leaders with the ability and skills to boost the global competitiveness of Australian research and industry.
The Australian–French Entrepreneurship Challenge is based on the '24 hours for Entrepreneurship' challenge, a flagship event that has been run in France since 2011 by the French National Association for Research and Technology and Novancia Business School.
This second edition builds on the success of the first Australian-French Challenge at the Australian National University in June 2016. ANRT (L'Association nationale de la recherche et de la technologie) and Novancia Business School will again bring in their pedagogical know-how and organisational support.
The Australian–French challenge is supported by the South Australian Government, the Australian Academy of Science, the University of South Australia, the University of Adelaide, Flinders University, the French Embassy in Australia, and the Australian and French business communities.
Contact Antoine Hautin at the South Australian government (antoine.hautin@sa.gov.au) if you are interested in becoming a sponsor.
The challenge will benefit researchers, academic institutions and the economy
Participating PhD students will gain an invaluable opportunity to broaden their research and entrepreneurial skill set while establishing interdisciplinary and international relationships. With access to expert advice and seasoned mentors throughout the challenge, participants will gain skills enabling them to seize diverse opportunities throughout their career.
This national competition will provide participating institutions the opportunity to build networks with French businesses and institutions. It will also contribute to Australia's innovation and economic goals in fostering international industry–research linkages.
Participants will compete for the opportunity to travel to France for a first-hand experience of the country's innovation system.
Teams of PhD students will compete to design an innovative and profitable start-up concept
In the first few hours of the event participants will attend workshops and access expert mentoring to provide them with the skills to go through the process. Prior to the event, the French Embassy and a representative from ANRT will select the members of each team and participants will be advised of their team on the day. Working in these teams, participants will be challenged to design a start-up in a relevant field. Over a continuous 24 hour period following the training, each team will require resilience, creativity, teamwork and a willingness to take risks in order to come up with a pitch to win over a grand jury of expert entrepreneurs, scientists and managers
Participation
Up to 70 contestants will be invited to participate in this challenge. Applications will be reviewed by a selection committee and the outcome will be announced on Tuesday 19 May.
The challenge will be held in Adelaide. All costs relating to flights, accommodation and meals outside of the event will be the applicant's responsibility.
Event
The event will commence with networking and training activities at 8am on Tuesday 11 July 2017 at the Adelaide Oval. Participants will then have 24 hours from 1pm 11 July to 1pm 12 July to develop their proposal. Following this the teams will pitch their ideas and the judges will make their selections.
Eligibility
The candidate must:
be an Australian citizen or an Australian permanent resident, living in Australia at the time of submitting the application (if you were not born in Australia, please provide proof of Australian citizenship or Australian permanent residency)
be enrolled as a PhD candidate in an Australian university or research organisation
hold a passport valid until at least 30 June 2018.
Eligible institutions include higher education institutions, publicly funded research agencies, private not-for-profit research organisations and firms that pursue research.
Fields of research
Candidates should be research active in one of the following fields:
the natural sciences, including earth, chemical or biological sciences
technology
engineering
medicine
the humanities
social sciences.
Materials to be submitted (in the following order)
Application form (76KB, DOCX) [updated 5 May with extended closing date of 22 May]
Proof of Australian citizenship or Australian permanent residency for applicants not born in Australia
Curriculum vitae or track record
Letter of support
Copy of passport valid until at least 30 June 2018
DEADLINE – COB Monday 22 May 2017
Completed applications, including supporting documentation, must be submitted electronically, preferably in PDF format, by a research office or grants office or equivalent, to grants@science.org.au.
Notification of outcome: 2 June 2017
Important notice
Applications are considered carefully by a selection panel with diverse expertise put together by the French Embassy. The decisions of the panel are based on the assessed competitiveness of the proposal. The Academy is not able to enter into discussion or correspondence regarding the reasons why an application is successful or not.
For further information contact
Australian Academy of Science
International Programs
Australian Academy of Science
GPO Box 783
Canberra ACT 2601
Phone: 02 6201 9412
Email: grants@science.org.au
South Australian Government
French Strategy Office
Department of the Premier and Cabinet
Level 16 – 200 Victoria Square
Adelaide SA 5000
Email: DPCFrenchStrategy@sa.gov.au