IAP for Health
InterAcademy Partnership
The InterAcademy Partnership (IAP) was formally launched in 2016, bringing together three established networks of academies of science, medicine and engineering, namely IAP, the global network of science academies, the InterAcademy Medical Panel (IAMP) and the InterAcademy Council (IAC).
Under the new InterAcademy Partnership, more than 140 national and regional member academies work together to support the special role of science and its efforts to seek solutions to address the world's most challenging problems. In particular, IAP harnesses the expertise of the world's scientific, medical and engineering leaders to advance sound policies, improve public health, promote excellence in science education, and achieve other critical development goals. Find out more about the IAP here.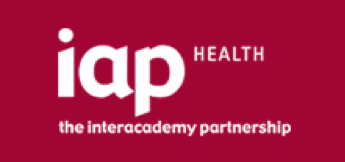 IAP for Health is a network of the world's medical academies and medical sections of academies of science and engineering. Founded in 2000 as the InterAcademy Medical Panel (IAMP), it is committed to improving health world-wide. The goals of IAP for Health are to:
strengthen the capacity of academies to provide evidence based advice to governments on health and science policy;
to support the creation of new academies;
to support the creation of projects by member academies to strengthen research and higher education in their countries;
and to issue consensus statements on matters of importance to global health.
The Academy is a member for the IAP for Health.
IAP for Health Statements
April 2019: A call for action to declare trauma as a disease
September 2016: Improving the reproducibility of biomedical research: a call for action
IAP for Health Reports
September 2017: Exploring Traditional Medicine: Report of a Symposium
July 2017: Strengthening clinical research capacity in low- and middle-income countries
April 2017: A Health Science Education Programme in Primary School (English version) – 3rd year
April 2017: Improving the development and deployment of rapid diagnostic tests in Low and Middle Income Countries