IAP for Policy
InterAcademy Partnership
The InterAcademy Partnership (IAP) was formally launched in 2016, bringing together three established networks of academies of science, medicine and engineering, namely IAP, the global network of science academies, the InterAcademy Medical Panel (IAMP) and the InterAcademy Council (IAC).
Under the new InterAcademy Partnership, more than 140 national and regional member academies work together to support the special role of science and its efforts to seek solutions to address the world's most challenging problems. In particular, IAP harnesses the expertise of the world's scientific, medical and engineering leaders to advance sound policies, improve public health, promote excellence in science education, and achieve other critical development goals. Find out more about the IAP here.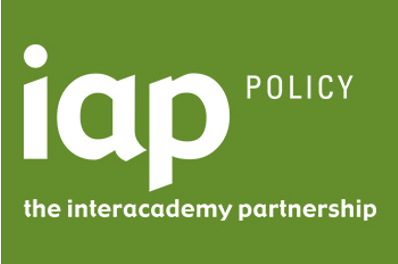 The IAP for Policy moblises the top scientists and engineers worldwide to provide high-quality, in depth advice to international organisations and national governments on critical scientific issues. The Academy has been an elected member of the Executive Committee of the IAP for Policy since April 2016.
IAP for Research Projects
Previous projects of the IAP for Policy have focused on building scientific and technological capacity worldwide; achieving a sustainable energy future; enhancing African agriculture; a review of the processes of the UN's Intergovernmental Panel on Climate Change (IPCC); scientific responsibility in global research; and, most recently, the science community's role in achieving the Sustainable Development Goals (SDGs).
Recent projects