The threat of air pollution on our health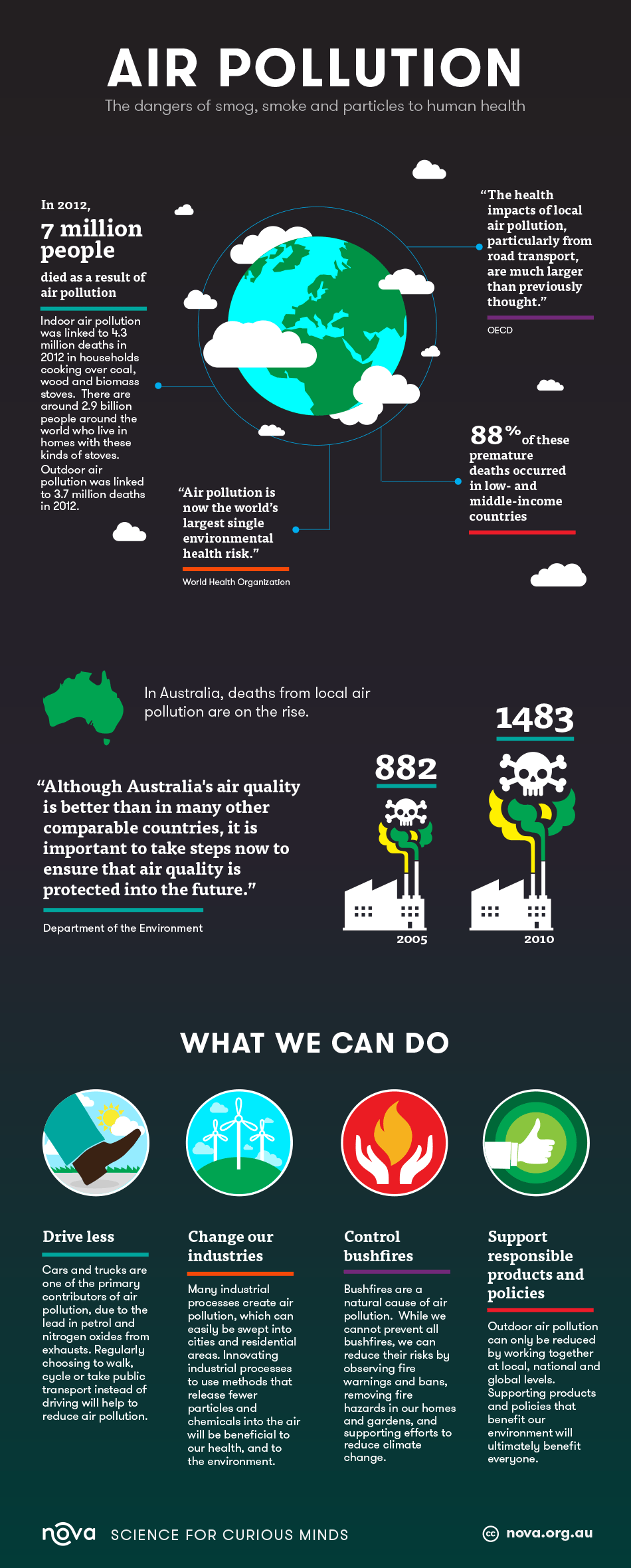 Still curious? Read more:
Fighting for breath
Air pollution: The dangers of smog, smoke and particles to human health
In 2012, 7 million people died as a result of air pollution. Indoor air pollution was linked to 4.3 million deaths in 2012 in households cooking over coal, wood and biomass stoves. There are around 2.9 billion people around the world who live in homes with these kinds of stoves. Outdoor air pollution was linked to 3.7 million deaths in 2012.
88% of these premature deaths occurred in low- and middle-income countries.
"The health impacts of local air pollution, particularly from road transport, are much larger than previously thought." —OECD
"Air pollution is now the world's largest single environmental health risk." —World Health Organization
In Australia, deaths from local air pollution are on the rise (882 deaths in 2005, 1483 in 2010).
"Although Australia's air quality is better than in many other comparable countries, it is important to take steps now to ensure that air quality is protected into the future." —Department of the Environment
What we can do
Drive less. Cars and trucks are one of the primary contributors of air pollution, due to the lead in petrol and nitrogen oxides from exhausts. Regularly choosing to walk, cycle or take public transport instead of driving will help to reduce air pollution.
Change our industries. Many industrial processes create air pollution, which can easily be swept into cities and residential areas. Innovating industrial processes to use methods that release fewer particles and chemicals into the air will be beneficial to our health, and to the environment.
Control bushfires. Bushfires are a natural cause of air pollution. While we cannot prevent all bushfires, we can reduce their risks by observing fire warnings and bans, removing fire hazards in our homes and gardens, and supporting efforts to reduce climate change.
Support responsible products and policies. Outdoor air pollution can only be reduced by working together at local, national and global levels. Supporting products and policies that benefit our environment will ultimately benefit everyone.