Can I get COVID-19 if I am fully vaccinated?
1 February 2022
You're vaccinated, now what? As COVID-19 vaccination rates increase in Australia and across the globe, let's look at the ways that these vaccines work in the real world.
This article clarifies why vaccinated people can still catch COVID-19, how often this is likely to occur, the benefits of natural vs vaccine immunity, and how vaccination is such a valuable tool even with the presence of some breakthrough infections.
What's the point of getting vaccinated if I can still catch COVID-19?
Vaccines are doing an excellent job at preventing severe illness and death, but we are still seeing some people test positive to COVID-19 even after being fully vaccinated. Why does this happen? Vaccines are essentially a safety mechanism. Just as seatbelts and airbags in cars save many lives, but don't prevent injury in all car accidents, vaccines help prevent serious disease and death from COVID-19 in the great majority of cases, but not every single case. All of the vaccines available in Australia are proven to prevent hospitalisations from COVID-19 in 71-98 per cent of COVID-19 cases. Reducing severe illness and death so significantly means that, for most vaccinated people, being reinfected with COVID-19 will be a mild and short-lived event.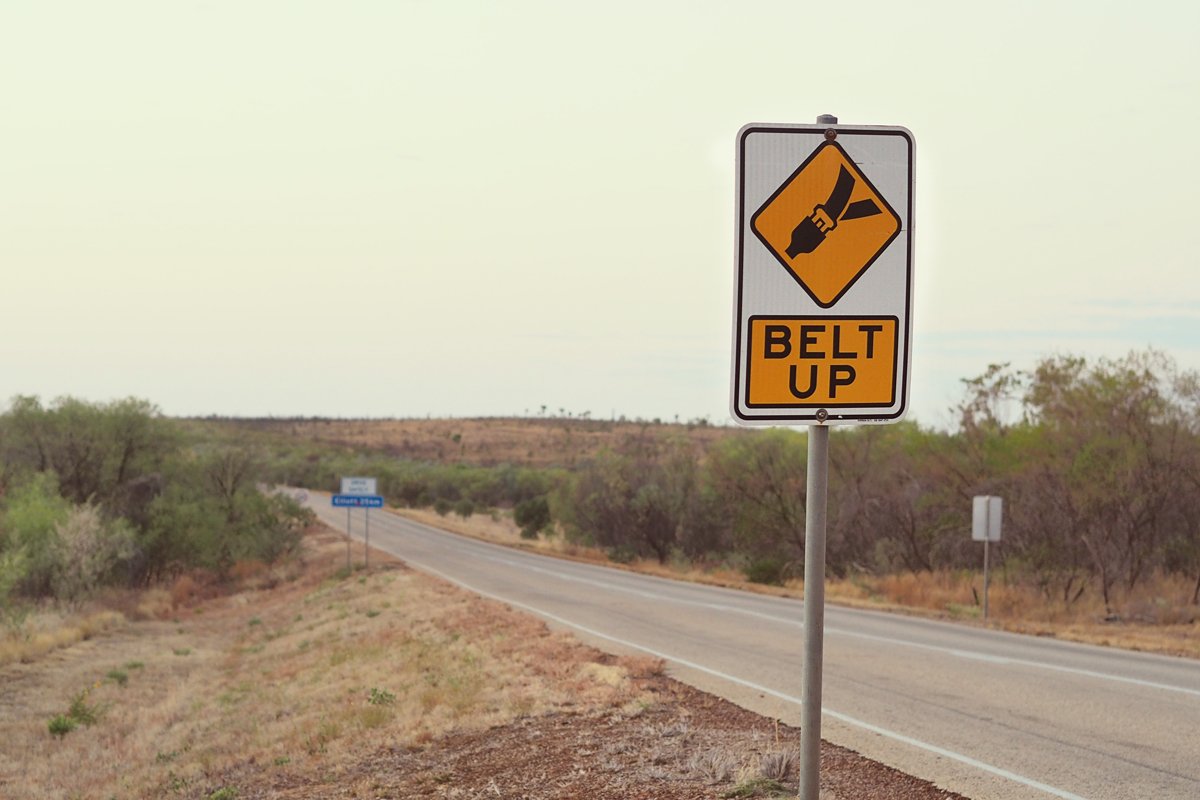 Some people in the community have the view that healthy people don't need the vaccine and can rely on their immune system alone to protect them from COVID-19. While it is true that a natural infection with COVID-19 does increase your immunity to later exposure to the virus, that's an extremely risky move, even for a healthy individual. If you were lucky and didn't get really sick from a natural infection with COVID-19 (which can happen to anyone), your body's immunity is not as strong or long-lived as it would be if you were vaccinated. Put simply, your immune system is much better at fighting an infection when it has been primed by the vaccine beforehand. The vaccine gives your body a practice run and prepares the immune system for onset of infection with the virus. This preparation of your immune system with the vaccine could save your life. As a result, scientists recommend that people who have had COVID-19 should still get vaccinated to help prevent reinfection. This can be done anytime after symptoms from the infection have gone, but preferably no longer than six months later. The combination of vaccination and prior infection can combine to give an even stronger antibody protection than either on its own.
As well as providing less protective immunity compared to vaccination, natural infection of COVID-19 could kill you or your loved ones, or cause severe illness. While this is rare in younger adults and extremely rare in otherwise well children, we still cannot predict every who will end up developing severe disease following an infection. The key reason for being vaccinated is that the chances of dying or becoming severely ill are very much reduced across all age groups. As a bonus, there is evidence that the vaccines reduce transmission of COVID-19, especially in the first three months after the second dose. If you are vaccinated, you're not only protecting yourself but reducing the risk of transmitting COVID-19 to friends and family, especially those who may have underlying health conditions which make them more susceptible to severe disease if they catch COVID.
How common are breakthrough infections?
When someone who is fully vaccinated tests positive to the virus, it is known as a 'breakthrough infection' because it has broken through the barrier of the vaccine.
The breakthrough rate of infection with the original alpha strain was estimated in one US study to be around 1 in 5000 fully vaccinated people. With the appearance of the Delta variant, despite a more highly vaccinated population, the figure became more like 1 in 100. Other emerging variants, such as Omicron, may further alter the rate of breakthrough infections.
When tracking breakthrough infections, we also need to consider how many people within that population are fully vaccinated. For example, in a hypothetical population that is 100 per cent vaccinated, 100 per cent of the breakthrough infections would then be in vaccinated people. So, in more highly vaccinated populations, an increase in breakthrough infections as a proportion of all infections must be considered in light of the small number of unvaccinated people who can be infected.
When we look into the more severe cases of COVID-19, the positive impact of full vaccination is also clear. In a New South Wales (Australia) report from 2021, out of 10,099 hospitalisations for COVID-19, just 611 cases (6 per cent) involved fully vaccinated people. As you can see in the graphs below, in terms of hospitalisation and death rates, fully vaccinated people had much better outcomes overall. As vaccination rates continue to increase in Australia at the end of 2021, these figures are continuing to improve, and we are seeing fewer deaths and less severe illness.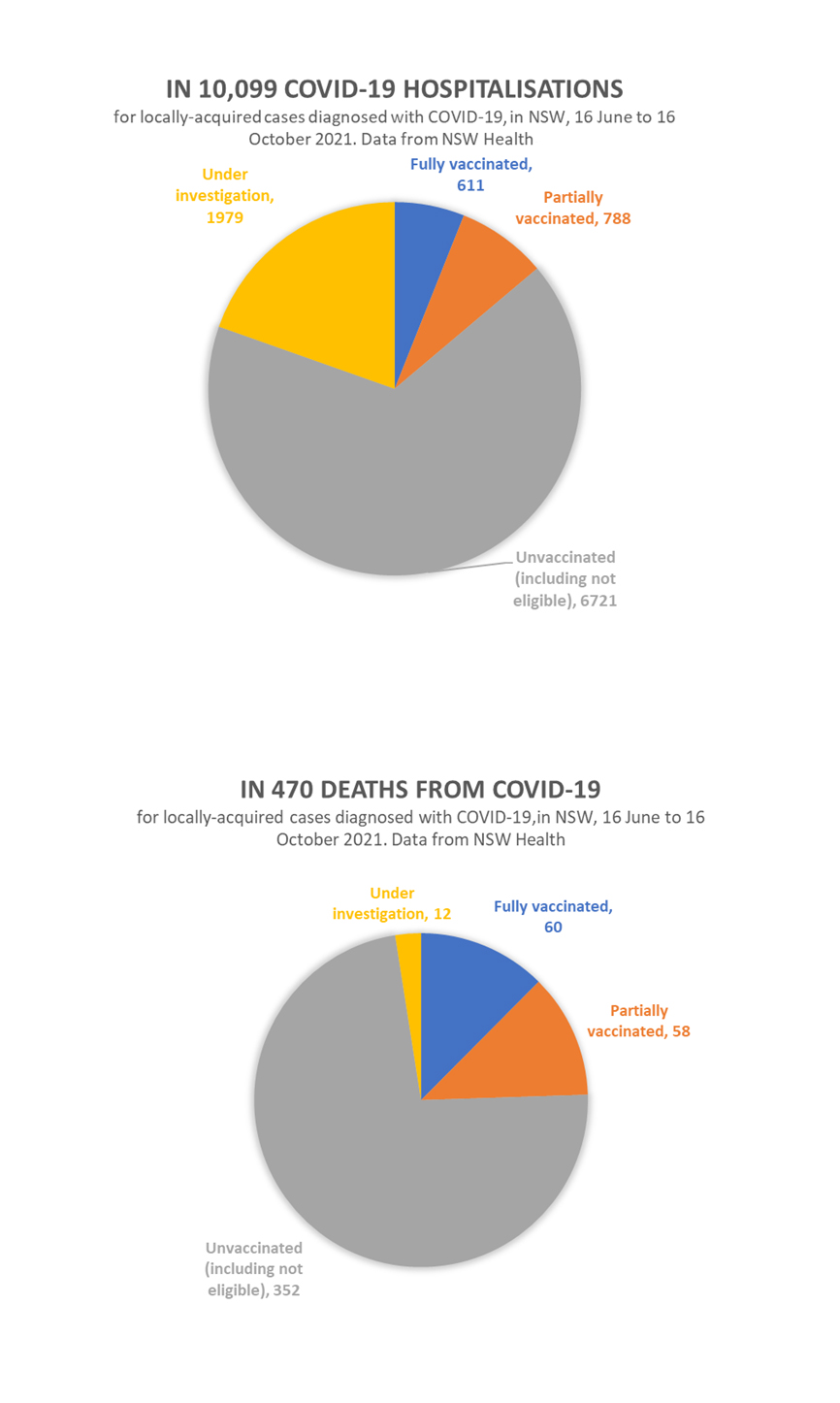 Some of the most comprehensive data on vaccination and COVID-19 deaths comes from the UK. In England between 2 January and 2 July 2021, there were 51,281 deaths involving COVID-19, and 246 (0.5 per cent) of these were classified as 'breakthrough deaths'. This clearly indicates that although there were sadly some breakthrough infections resulting in death, people who were unvaccinated were much more likely to die from COVID-19.
Breakthrough infections are most likely to occur in the elderly due to the fact that the efficiency of the immune system declines with age. People who are immunocompromised at any age are also more likely to get breakthrough infections, as they may not have produced an immune response as robust as a healthy person following vaccination. However, the higher the proportion of people in a community who are vaccinated, the better protected everyone is, as transmission of the virus is reduced.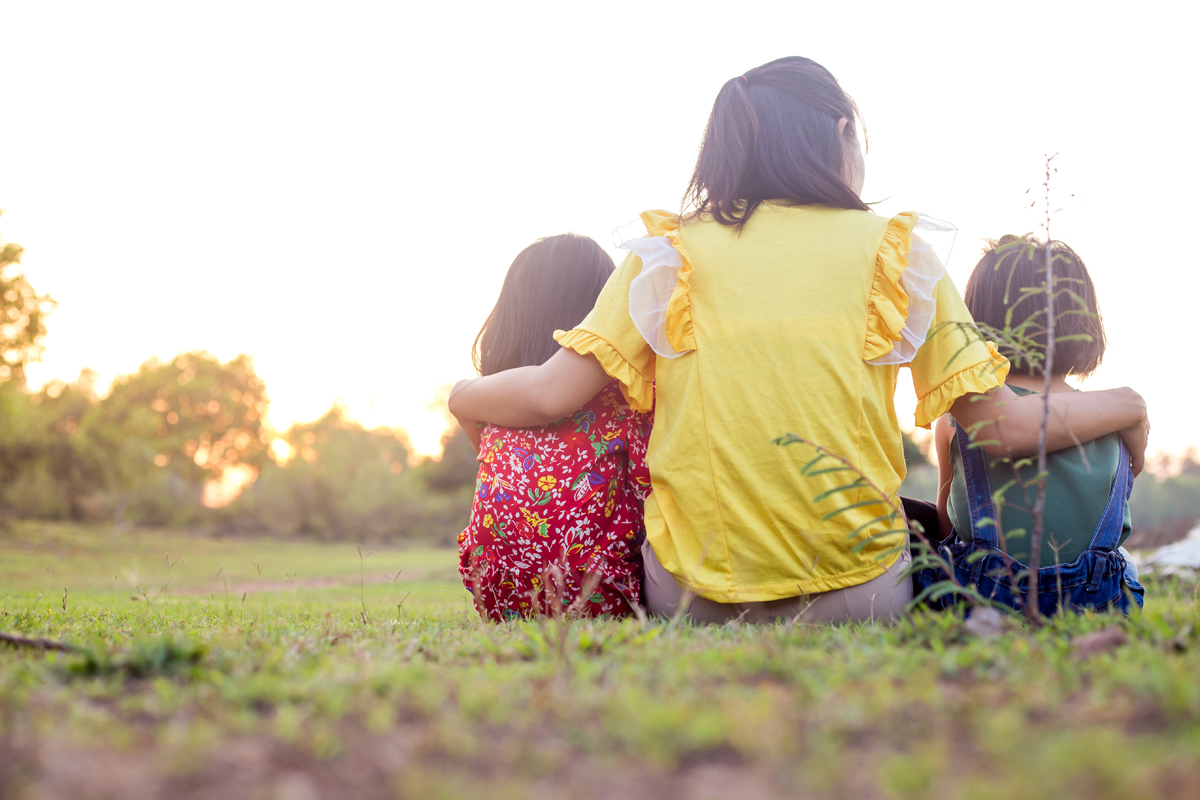 There is some evidence that breakthrough infections are more likely to occur six months or more after the last dose of any of the COVID-19 vaccines, as immunity may begin to wane gradually. However, vaccines are still very effective at preventing severe COVID-19 and death up to six months after vaccination. That is why booster shots are recommended in Australia for the COVID-19 vaccine to help prevent breakthrough infections.
Being fully vaccinated doesn't guarantee you a free pass from COVID-19, however it significantly improves the odds for your protection from severe disease and the quite common long COVID (post COVID-19 condition). Vaccination also decreases the likelihood of transmitting COVID-19 to people whose immune defences are suppressed, or non-vaccinated members of the community. In the context of a pandemic, where the likelihood of catching the disease is quite high, it's important that we use all the tools available to reduce the risks of COVID-19 disease.