How safe are vaccines?
We know that vaccines protect individuals and our communities at large against disease by harnessing the power of the immune system . But how can we be sure that the ingredients in a vaccine are going to be safe and effective for those who receive it?
Clinical trials explained
Vaccines must pass a series of safety checks before they're rolled out to the public. The first step is to assess the vaccine's safety in a laboratory before it's tested on any human volunteers. Once it passes those tests, clinical trials begin.
There are three phases in these clinical trials. In Phase I, the vaccine is given to small numbers of healthy adult volunteers (usually between 25 and 50 people) to assess its safety and identify possible side effects. Phase II trials involve hundreds of participants and are designed to see how effective the vaccine is at getting the right immune response and what is the best dosage to use.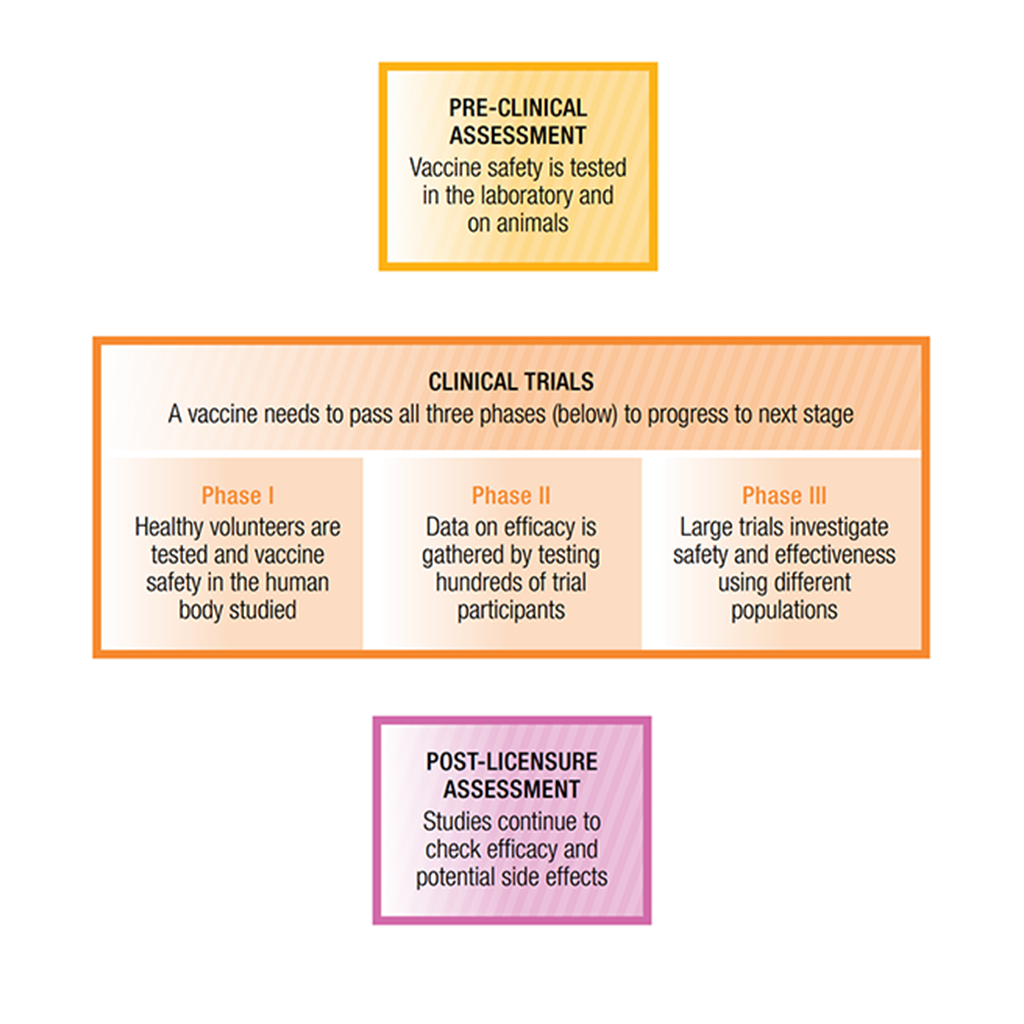 By the time a vaccine reaches the Phase III stage of assessment, it's been through lots of safety testing already. In this last phase, the vaccine is tested once again for its effectiveness and safety, but thousands of individuals are involved, ensuring that any results from the tests are even more reliable. At this stage, the vaccine is also compared to other standard or experimental interventions to ensure it's the most effective way of preventing the disease. It's only after a vaccine passes through all of these checks that it's approved for community use.
Safety monitoring for vaccines doesn't stop when they're approved for use after a clinical trial. To make sure health authorities can keep track of any unintended side effects, data are collected from health practitioners about any adverse reactions they observe in patients after administering a vaccine. This process is called 'post-licensure assessment' and allows authorities to temporarily suspend the use of a vaccine if it is necessary to investigate the cause of any suspected problems.
What about adverse reactions?
The great majority of side effects that follow a vaccination are minor and don't last long. The most common side effect is some pain, redness and swelling at the injection site. This inflammatory response is a sign that your immune system is responding to the vaccine as it should.
Symptoms such as a mild fever or tiredness are also signs that your immune system is building a protective response to the vaccine. More serious allergic reactions or other side effects from vaccines are extremely rare. Such side effects occur much less often with
the vaccine than they would if a person caught the
disease itself.
Sometimes, it may seem as though a vaccination causes another medical condition to develop, even though the vaccine is not related at all. When two events happen simultaneously or within a short interval of time, that doesn't necessarily mean that one has directly caused the other. In many cases, an illness can occur by chance at the same time as a vaccine is given, or the first clinical signs of a chronic condition may start to appear at the same time as a child follows a typical immunisation schedule. These are events that would happen anyway, regardless of whether or not someone receives a vaccine.
One commonly used example of this is the alleged link between the MMR vaccine and autism. The first clinical signs of autism typically appear in the second year of life, which happens to be the same time that the MMR vaccine is given to children. This does not mean, however, that the vaccine is the cause—many comprehensive studies have shown that rates of autism diagnoses are the same among children who have and have not been vaccinated.
The benefits of vaccination outweigh the risks. While some people may experience side effects, the protection that immunisation provides against nasty diseases is far more important, not only for individuals, but for entire communities as well.