QUT research advancing bioenergy crop resilience
July 28, 2021
A new QUT-US research partnership aims to develop a proof-of-concept for drought resistant bioenergy crops within five years that could lead to our greater use of renewable fuels.
QUT will help advance crop resilience research through a strategic partnership with Pacific Northwest National Laboratory (PNNL), a US Department of Energy laboratory.

Plant biotechnologist researcher Professor Sagadevan Mundree, director of the QUT Centre for Agriculture and the Bioeconomy (CAB), commenced a five-year joint appointment in July as Senior Scientist in PNNL's Environmental Molecular Science Division of the Earth and Biological Sciences Directorate.
He will work with PNNL scientists to improve understanding of the role of plant microbe interactions in drought tolerance and stress resistance, and to develop approaches to enhance plant productivities and nutrient acquisition that ensure economic feasibility of bioenergy crops.
"Ultimately, we want to ensure that, within a certain timeframe, we can switch to renewable sources of energy," Professor Mundree said.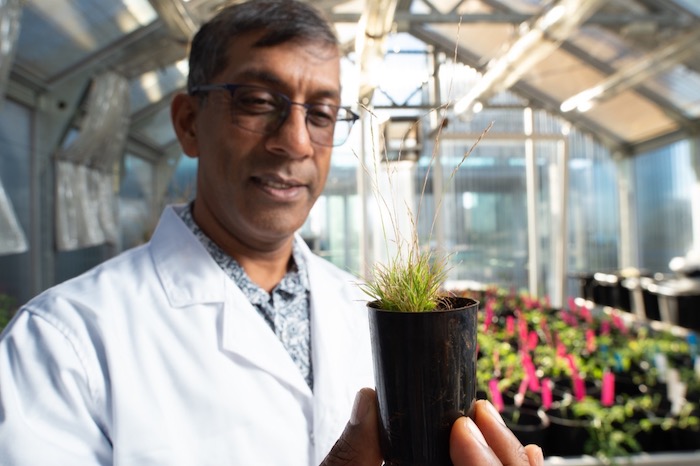 Professor Sagadevan Mundree, director of the QUT Centre for Agriculture and the Bioeconomy, will work with Pacific Northwest National Laboratory scientists to help ensure drought and stress tolerance in future bioenergy crops.
"Bioenergy crops are specifically grown for biomass, not food. Our first challenge is to ensure we have a reliable, sustainable source of biomass feedstock like switchgrass or sweet sorghum that can be processed to produce renewable energy and fuels.

"We don't want to compete with food crops, so we should have dedicated crops as biomass sources, and that's what PNNL has been focused on.

"By increasing the stress tolerance of the plant, we could move bioenergy crops away from prime areas for growing food crops and start to use small, marginal land."

For the past 25 years, Professor Mundree has worked on enhancing stress tolerance in plants to develop resilient food crops that he will now extend to bioenergy crops.

He has a rich history of working with extremophiles—organisms that can survive in extreme environments like intense temperatures and highly acidic environments—including the Australian resurrection grass.

"We have identified some unique strategies of the native Australian resurrection grass which grows in the outback and can tolerate extreme environmental stress," Professor Mundree said.

"This plant uses a number of strategies that we could use in our work, and we can advance our understanding of these using PNNL's capabilities and world-class expertise in plant systems biology, microbiome science and multi-omics measurement technologies."
This story was provided by QUT, a Major Event Partner of the Academy's flagship event, Science at the Shine Dome in 2021.