National Committees for Science
The Academy has 22 National Committees for Science that are widely representative of its disciplines. The broad aims of the committees are to foster a designated branch or theme of natural science in Australia and to serve as links between Australian and overseas scientists in the same field. National Committees advise the Academy's Council on Australia's representation for the unions and multidisciplinary bodies of the International Council for Science (ICSU) and other international bodies.
The National Committees for Science were reviewed in 2012-13 in consultation with the broader scientific community and implementation of the review's recommendations is underway. Restructuring of the committees from the previous structure has been completed, and the restructured committees are named below.
You can see reports, decadal plans and guidelines relevant to all the Committees, or browse the listings below to find out more about what each of them do, their members, and recent activities.
SECURING AUSTRALIA'S SCIENCE PIPELINE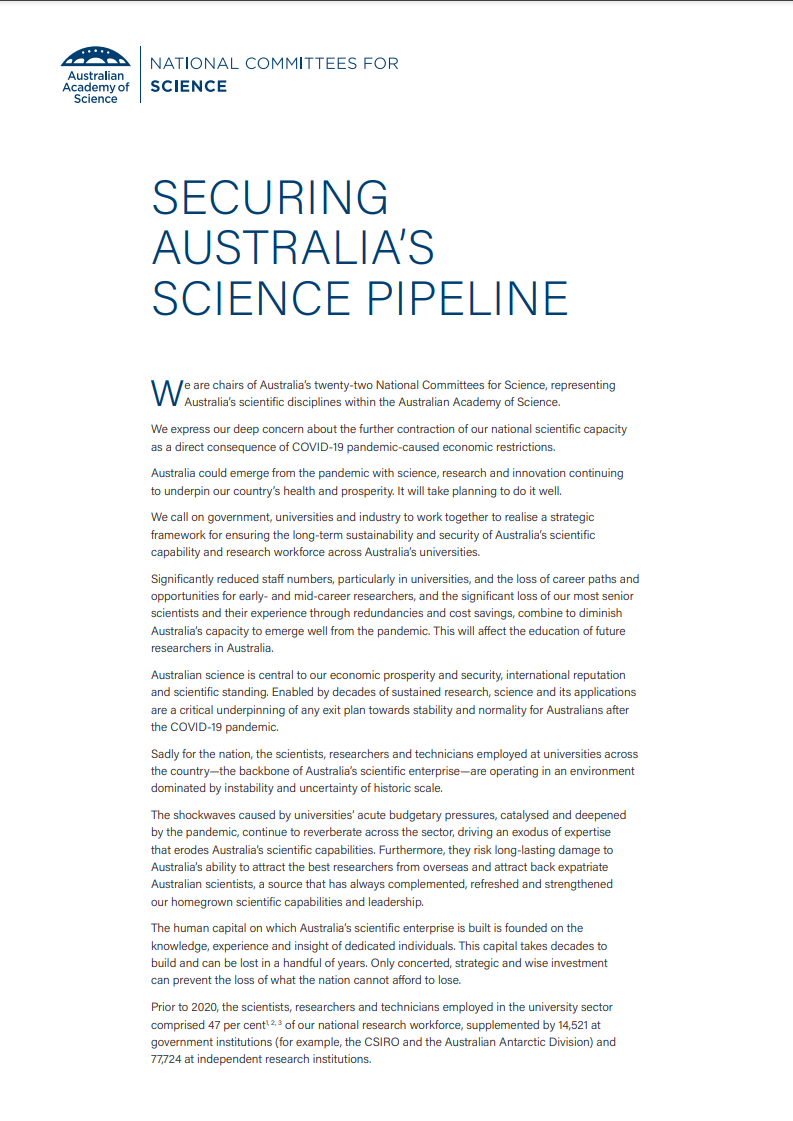 May 2022
The Chairs of the Academy's National Committees for Science issued a joint statement expressing deep concern about the further contraction of Australia's national scientific capacity as a direct consequence of COVID-19 pandemic-caused economic restrictions.
Read the statement here
The statement is supported by Australian societies and organisations. Contact the National Committees for Science office to support this statement.
Strategic plans for science disciplines
The National Committees for Science regularly develop 10-year strategic plans for scientific disciplines and other relevant reports. Published reports and details about reports under development may be found here.
National science news and e-updates
The National Committees for Science provides regular electronic updates from international scientific unions and committees, in addition to news from the local scientific community, relevant funding opportunities, conferences and awards.
Sign up for our newsletters here
Guidelines for scientific meetings held in Australia
Australian organisations routinely bid to hold congresses and scientific meetings of international scientific unions in Australia. The Academy's guidelines set out the policy on holding international meetings in Australia for the information of the relevant scientific communities, convention bureaus and other interested organisations and may be found here.