Honours and awards to Fellows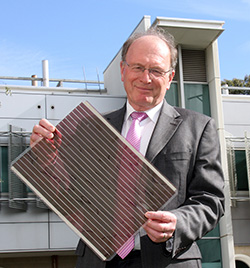 Australia Day Honours
Professor Andrew Holmes AC PresAA FRS FTSE—for eminent service to science through developments in the field of organic and polymer chemistry as a researcher, editor and academic, and through the governance of nationally recognised, leading scientific organisations.
Professor Max Lu AO FAA FTSE—for distinguished service to education, to national and international research in the fields of materials chemistry and nanotechnology, to engineering, and to Australia–China relations.
Professor Gordon Wallace AO FAA FTSE—for distinguished service to science and research in polymer materials and their use in biomedical applications, and to national and international collaboration with industry.
Professor David Vaux AO FAA—for distinguished service to medicine in the field of biomedical cancer research, to higher education as an academic and mentor, and to professional integrity and ethics.
Professor Colin Masters AO FAA FTSE—for distinguished service to medical research through international and national contributions to understanding Alzheimer's and other neurodegenerative diseases.
Professor Richard Harvey AM FAA FRS—For significant service to medicine in the field of cell biology and cardiovascular research, and through scientific leadership roles.
Professor Evan Simpson AM FAA—For significant service to medical science, particularly in the field of breast cancer, as an academic and researcher.
Professor Malcolm Walter AM FAA—For significant service to science in the field of astrobiology as an author, academic, educator and mentor.
Honours and awards
Professor C. Jagadish AC FAA FTSE—made an Honorary Fellow of the Indian Academy of Science
Professor Tony Klein AM FAA—2016 Australian Optical Society WH (Beattie) Steel Medal, for his strong and sustained record of authority and innovation in the field of optics in Australia or New Zealand
Professor Harry Poulos AM FAA FTSE—American Society of Civil Engineers, Outstanding Projects and Leaders (OPAL) award for design, for his contributions to understanding foundation structure and ground support interactions.