Nominations for awards and grants now open
Awards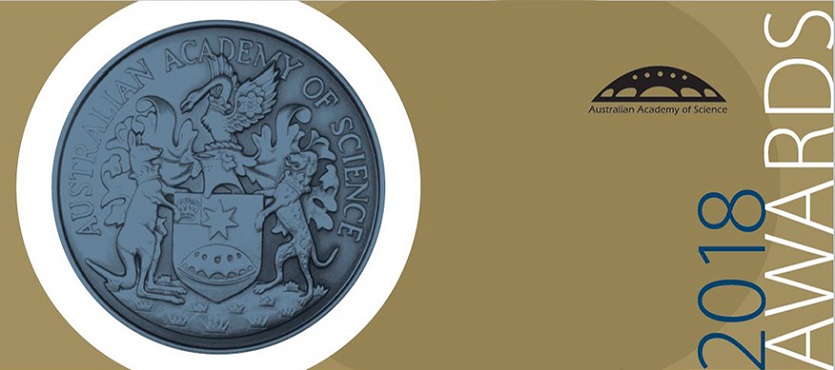 The Academy is calling for nominations for next year's prestigious honorific awards for early, mid and career researchers. The closing date for nominations is 20 April 2017.
Career awards
David Craig Medal (chemistry)
Haddon Forrester King Medal sponsored by Rio Tinto (mineral exploration)
Ian Wark Medal and Lecture (applied science)
Macfarlane Burnet Medal and Lecture (biological sciences—open to Fellows of the Academy only)
Mawson Medal and Lecture (Earth sciences)
Mid-career awards
For researchers 8 to 15 years post-PhD in the calendar year of nomination:
Gustav Nossal Medal (global health)
Jacques Miller Medal (experimental biomedicine)
Nancy Millis Medal for Women in Science (any branch of the natural sciences)
Early-career awards
For researchers no more than 10 years post-PhD in the calendar year of nomination:
Anton Hales Medal (Earth sciences)
Christopher Heyde Medal (probability theory, statistical methodology and their applications)
Dorothy Hill Award (Earth sciences, reef sciences, marine geology and taxonomy)
Fenner Medal (biology—excluding biomedical sciences)
Frederick White Prize (physical, terrestrial and planetary sciences)
Gottschalk Medal (medical sciences)
John Booker Medal (engineering sciences)
Le Fèvre Memorial Prize (chemistry)
Pawsey Medal (physics)
Ruth Stephens Gani Medal (human genetics including clinical, molecular, population and epidemiological genetics and cytogenetics)
Grants, fellowships and support
The Academy has also opened applications for research grants, travelling fellowships and conference and lecture support for 2018–19. The closing date is 1 June 2017.
The Academy is expecting to allocate close to $260,000 in 2018 for the Douglas and Lola Douglas Scholarship in medical science, the J G Russell Award, the Margaret Middleton Fund for endangered Australian native vertebrate animals, the Moran Award for history of science research, the Max Day Environmental Science Fellowship and the Thomas Davies Research Fund for marine, soil and plant biology.
Travelling fellowships totalling over to $30,000 are expected to be allocated for the Graeme Caughley Travelling Fellowship, the Rudi Lemberg Travelling Fellowship, the Lloyd Rees Lecture and the Selby Travelling Fellowship for overseas scientists to visit Australian scientific centres.
Applications are also invited for 2018 and 2019 research conference support including the Boden Research Conference in the Biological Sciences, the Elizabeth and Frederick White Research Conference in the physical sciences and the Fenner Conference on the Environment. The funding available for these three conferences is up to $30,000 in total.