Primary Connections strengthens professional learning
Professional learning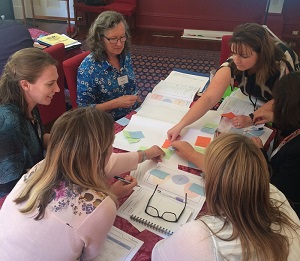 Primary Connections held a three-day workshop in Melbourne recently in response to increasing interest in professional learning. The workshop brought the PC team together with 12 potential candidates from across the country. Successful participants will be mentored by existing presenters and will work primarily with in-service and pre-service teachers in delivering PC Ready workshops. The Academy thanks the Australian Government for its support and the Royal Society of Victoria for providing a venue for professional learning activities.
New resources
Primary Connections published four new student science journals at the start of the school year. These journals accompany and support the teaching of Year 5 Curriculum units, and will soon be followed by journals for Year 6 units.
The production of the Year 5 journals was made possible by a bequest from Professor David Craig AO FAA FRS. Professor Craig was a former Academy President and prominent Australian chemist, and the Academy is grateful for this valuable support that is making it possible for Primary Connections to continue its vital contributions to primary science education in Australia.