Plan ahead for your event at the Shine Dome
April 30, 2020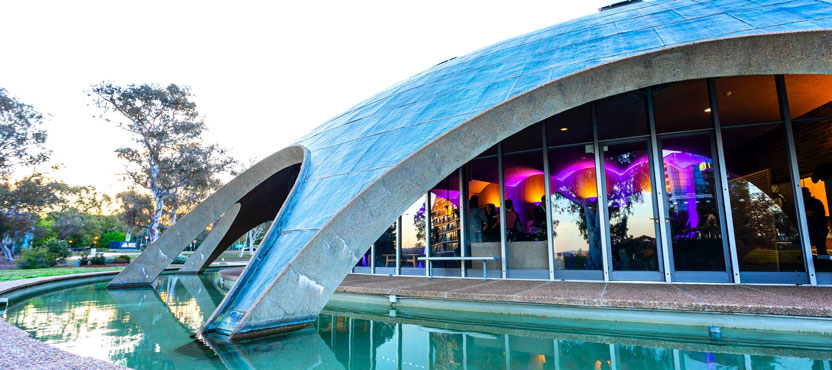 The Academy's iconic Shine Dome is the perfect venue for Canberra meetings and events.
The Shine Dome last year celebrated its 60th anniversary. The iconic structure reflects some of the more adventurous architectural ideas of the mid-20th century and remains one of the most unusual buildings in Australia.
The dome—roof, walls and structure combined—dives down beneath the still water of its moat to give the sense that it is floating. From the walkway between the moat and the inner walls, the arches provide a 360° panoramic sequence of 16 views of Canberra city and the hills beyond.
With rooms flooded with natural light surrounding a central theatre, the Shine Dome has the perfect spaces for hosting corporate events, conferences, meetings, lectures, private celebrations and more.
The Academy is now taking bookings for late 2020 and all of 2021. Take this opportunity to speak with our team and let them guide you to make your next meeting a success.
The menu features a range of local Canberra produce and the professional audio-visual team will help make your next event shine.
Should physical distance restrictions still be in place closer to your booking date, the venue team will help you postpone your event and transfer all monies paid to your new event date.
For all enquiries visit the Shine Dome website or contact the team on shinedome@science.org.au.