Donor news
Awardees meet the donors who support their medals
A special opportunity was made during Science at the Shine Dome for the donors to the following awards to meet the 2015 recipients of those awards: Ruth Stephens Gani Medal, Gustav Nossal Medal, Jacques Miller Medal, Moran Medal and the Anton Hales Medal.
This provided a rare opportunity for donors and awardees to meet and chat over lunch in a relaxed atmosphere at the Shine Dome.

Report to donors
In April the Academy reported to The Enlightening Campaign donors on the direct and indirect benefits achieved as a result of their support. Highlights included:
a donation of $1 million to support the redevelopment and relaunch of Nova, the Academy's science website aimed at adults and senior school students
philanthropic funding for Primary Connections is building on the benefits of previous investments to achieve the bold goal of providing professional development to Australian teachers working in regional, rural and remote locations, including those with high enrolments of Indigenous students
philanthropic funding contributed to building national awareness of science through the publication of The science of climate change: Questions and answers in February
donations have allowed the Academy to enhance its ability to influence the policy agenda
sponshorship is supporting the growth of the Science in Australia Gender Equity (SAGE) initiative.
The Enlightening Campaign provided a clear pathway for the Academy to move forward in its fundraising activities and how it can better engage with our donors.
The Academy engages with people from a broad spectrum of ages and interests each unique in how they communicate with the Academy, each unique in their interests and in their relationship to the Academy. By better understanding those relationships, a strong base can be established on which to build successful fundraising programs.
Donor profile: Professor Ken Cavill FAA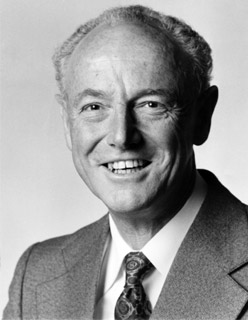 Professor Ken Cavill FAA, a Primary Connections' donor, says his interest in science, and in organic chemistry in particular, was fostered by outstanding teachers at school and university.
'As a pioneer in the field of insect chemistry I was able to build up a substantial team of higher degree students and research workers from the early 1950s.
'At the Academy, I have strongly supported projects focusing on science education and recently, the extensive teacher training to the Primary Connections Program.
'Not only good text, but good teaching is essential at all levels.'
Support like that of Professor Cavill will ensure that the Academy continues to provide the opportunities for our primary school teachers and their pupils to receive the very best science education possible.
Thank you to donors
In late April the Academy held a get-together for our ACT-based donors and supporters.
This was a great opportunity for members of the Academy's Executive Committee to say 'thank you' and to show donors the new donor recognition boards in the foyer of the Shine Dome.
The Academy will create opportunities to further engage with Fellows and valued supporters in various states and territories in the future.
---