Moran family views painting of Patrick Moran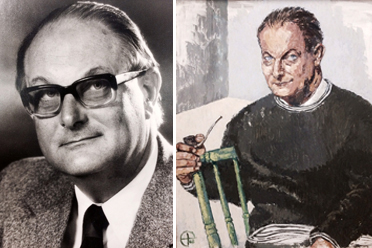 Mrs Jean Moran, her daughter Dr Louise Moran, and sons Michael and Hugh Moran visited the Academy's library recently to view a painting of Mrs Moran's late husband Professor Patrick Moran FAA FRS, painted by Frances Philip. Frances, a gifted painter, grew up and went to school with the Boyd children in Murrumbeena and had the same art teacher. She had an interest in abstract art, but her interest in people dominated and, as her husband was an academic, many of her subjects were university colleagues of her husband.
The painting was spotted by Louise Moran on a previous visit and she was keen for the family to view it.
Professor Moran's research took him into the cycles of animal populations, dam theory, genetics and geometrical probability. He was elected to the Academy in 1962 and won the Academy's Lyle Medal in 1963. Following his death in 1988 a new medal, the Moran Medal, was introduced. It is awarded to a young Australian scientist for research in one of the fields of applied probability, biometrics, mathematical genetics, psychometrics and statistics.
---