Nobel laureate new pin-up scientist at Darwin High School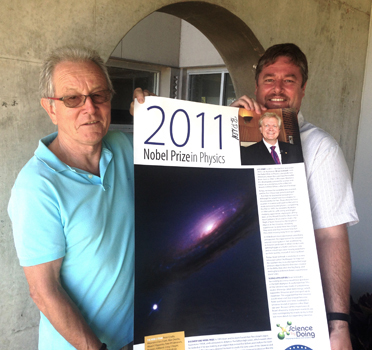 Astronomer and Nobel Laureate Professor Brian Schmidt AC FAA FRS is now Darwin High School's pin-up scientist, following a donation to the school of a hand-signed poster of the Nobel Laureate.
Professor Nick Anstey, winner of the inaugural Gustav Nossal medal for Global Health, won the signed poster of Professor Schmidt during the Academy's Science at the Shine Dome conference in May.
With the aim of inspiring young students to consider a career in science, Professor Anstey donated the poster to Darwin High School, which is host to the Northern Territory's Centre for Excellence in Science and Mathematics.
The school's Principal, Trevor Read, and Head of Science, Tony Copland, intend to frame and hang the poster in a prominent place and hope it will inspire their students.
---