New program promotes gender equity in science

The Science in Australia Gender Equity (SAGE) pilot of Athena SWAN in Australia is a partnership between the Australian Academy of Science and the Australian Academy of Technology and Engineering (ATSE). Athena SWAN was established in the UK in 2005 and has been highly successful in promoting gender equity action in science, technology, engineering, mathematics and medicine (STEMM).
The Australian Academy of Science held a SAGE Forum in November 2014 which recommended a small trial of Athena SWAN in Australia. SAGE was overwhelmed with the response. Thirty-two organisations came forward to participate, including half the higher education sector (25 universities), five medical research institutes and two publicly funded research agencies.
The SAGE pilot was launched on 16 September 2015 at Parliament House. The event was hosted by the Parliamentary Friends of Science and the Parliamentary Friends of Women in Science, Maths and Engineering. President of the Academy of Technology and Engineering (ATSE) Dr Alan Finkel AO and Vice-President of ATSE Dr Susan Pond AM attended, as did ministers and senators as well as senior leaders from STEMM agencies and each of the 32 participating institutions.
Professor Andrew Holmes AM PresAA FRS FTSE, President of the Australian Academy of Science, said that:
most science disciplines are dominated by men in senior positions, despite the fact that roughly equal numbers of men and women study science and start science careers. Not only is this inherently inequitable and unfair, but the loss of women from science also represents a very substantial cost to Australia in training, talent and opportunities for scientific innovation.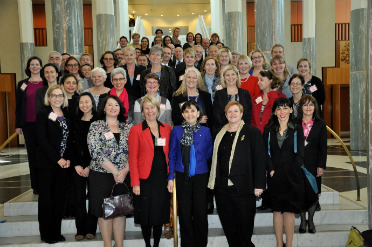 Participating institutions will work towards an Athena SWAN Bronze Award, in recognition of gender equity practices designed to retain and promote women within their organisations. A peer-review process will determine if each institution has the capacity to eliminate gender bias and create an inclusive organisational culture that values all staff.
SAGE Project Manager, Dr Zuleyka Zevallos, is visiting each of the participating institutions to present the Athena SWAN principles and methodology to staff, students and faculty. Bi-annual workshops will begin in February 2016, as will an annual forum and other activities to support SAGE pilot participants with their applications.
The SAGE pilot has been made possible by the generous support of sponsors. The Academies acknowledge the Office of the Chief Scientist and sponsors Nobel Laureate Professor Brian Schmidt AC FAA FRS; Professor Nalini Joshi FAA, and Professor Tanya Monro FAA FTSE through their ARC Georgina Sweet Australian Laureate Fellowships; and Sally Speed and Professor Terry Speed FAA.