Science shines at the Dome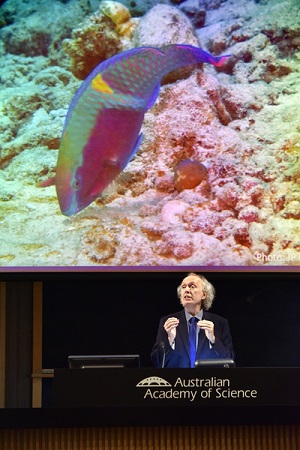 Bionic eyes, melting Antarctic ice, 3D printing body parts and the language of fish bones were among the exciting topics covered at the 2016 Science at the Shine Dome.
The event saw 21 new Fellows inducted in to the Academy in recognition of their work in science, and each presented research ranging from cutting edge cancer treatment and advanced communications to agriculture and mathematics.
On day two, Academy awardees were given the chance to share their research with the Academy's Fellows and members of the public. Award recipients, such as Professor Graham Farquhar who received the 2016 McFarlane Burnet Medal, spoke on subjects including plant biology, solar energy, biodiversity, oceans and waves, immunology, astronomy, geology and the evolution of animals.
The final day was an exploration of bionics, titled 'Human +Plus', and some of Australia's leading researchers in the field shared the latest in bioengineering, bioelectronics, prosthetics and ideas for the future of bionics.
The inspiring talks are available on the Academy's YouTube channel.
See photos of the event. Password is 61STAS; please credit Mark Graham if using the images.