Rod Rickards Fellowships go to three researchers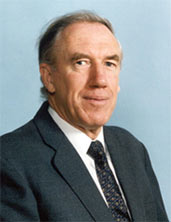 Rod Rickards Fellowships have been awarded in 2016 to three researchers to allow them to travel to Europe to undertake research in chemistry or biology—Dr Andrey Molotnikov from Monash University, Dr Katrina Witt from Deakin University and Dr Pu Xiao from UNSW Australia.
Dr Molotnikov will work on the computational modelling of the mechanical behaviour of additively manufactured metal/polymer hybrid lattices at Arts et Métiers ParisTech and MINES ParisTech; Dr Witt will visit INSERM to research the relationship between psychosocial working conditions and mental health, including suicidal behaviour, in young French employees; and Dr Xiao will research the development of natural dye-based photo-initiating systems for 3D printing based on LED devices at the National Centre for Scientific Research.
The fellowships were established in 2009 by the family of Professor Rod Rickards FAA in memory of his important contributions to Australian science through his outstanding achievements in the chemistry of compounds of medical, biological, agricultural and veterinary importance.