Academy honours marine ecologist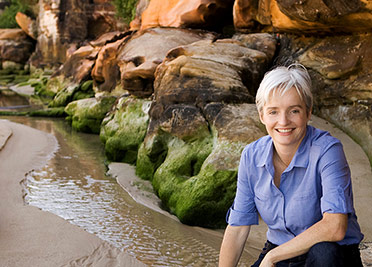 Professor Emma Johnston has been awarded the Academy's inaugural Nancy Millis Medal for Women in Science.
Professor Johnston, from the University of New South Wales School of Biological, Earth and Environmental Sciences and inaugural Director of the Sydney Harbour Research Program at the Sydney Institute of Marine Science, combines her expertise in ecology and ecotoxicology to better understand and manage human impact on marine systems. Her work involves traditional laboratory-based studies with novel field-based experiments, from Antarctica to the Great Barrier Reef. She is also a co-star of Coast Australia -- a television series exploring the country's coastline.
Professor Johnston will be presented with the 2014 Nancy Millis Medal at Science at the Shine Dome on 28 May. This new Academy award recognises outstanding research and exceptional leadership by early- and mid-career Australian women who have established independent research in the natural sciences. It honours the contributions made to science by the late Professor Nancy Millis AC MBE FAA FTSE and recognises her importance as a role model for aspiring female scientists.
A Fellow of the Academy, the late Professor Millis introduced fermentation technologies to Australia, created the first applied microbiology course taught at an Australian university, and co-wrote the standard text Biochemical Engineering. Professor Millis also worked tirelessly to establish links between universities and industry.
This first round of the award saw an overwhelming response and the quality and breadth of the nominations was extremely high. Nominations for 2015 Academy Awards are now open.