Tertiary educators gather in Sydney
More than 100 tertiary trainers have been trained by Primary Connections under a funding agreement with the Department of Education, Employment and Workplace Relations (now the Department of Education).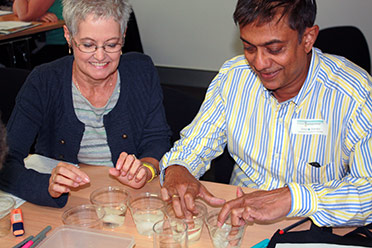 On 20‒21 February 2014, Primary Connections completed its final two-day workshop, in Sydney, for tertiary trainers of pre-service teachers under the agreement. The training is a major achievement for Primary Connections as these trainers are responsible for training significant numbers of pre-service teachers across Australia.
Twenty-nine university lecturers from higher education institutions from all states and territories attended the workshop and enjoyed the engaging activities presented by Professional Learning Consultant to Primary Connections Ms Louise Rostron, Professional Learning Manager Ms Sophia McLean, and guest presenter and expert in literacies of science Professor Vaughan Prain from La Trobe University.
In other news, Primary Connections recently revealed its new website, featuring enhanced user experience for teachers.
'Thank you for your work in organising and presenting an effective and engaging two-day workshop. We loved every minute!' Pre-service teacher educator