Renowned physicist and science champion receive Academy Medals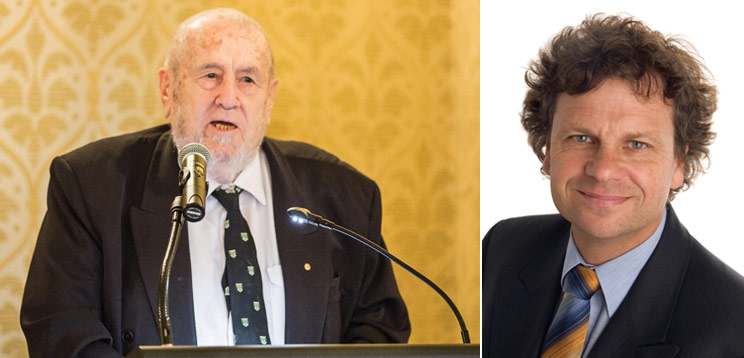 One of the Academy's highest honours, the Academy Medal, has been awarded to retired physicist Professor Harry Messel AC CBE and Mr Simon McKeon AO FAICD.
Professor Messel, aged 92, a renowned Australian science educator and advocate, was recognised for his 'conspicuous and enduring service' to the cause of science in Australia. He is well known as the creator of a series of high school textbooks, the 'blue books', which inspired many current researchers and scientists. He also established the Physics Foundation at The University of Sydney and founded the Harry Messel International Science School.
Mr McKeon, a philanthropist, business leader and 2011 Australian of the Year, was awarded the Academy Medal for his extensive contributions to science and innovation, including chairing the 2013 Strategic Review of Health and Medical Research; leadership of the CSIRO Board since 2010; being Foundation Chairman, and now Patron, of Multiple Sclerosis Research Australia; and membership of the inaugural Bio21 Australia board.
The Academy Medal was established in 1990 to recognise outstanding contributions to science from people outside the Fellowship. This year is the 60th anniversary of the Academy's foundation and two Academy Medals have been awarded to mark the anniversary year.