Science by Doing — 10 000 registrations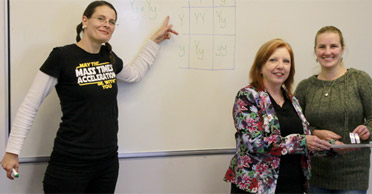 Congratulations to Ms Jacqueline Hancox, a pre-service teacher from Nowra NSW, who was our 10 000th registration since the launch of Science by Doing's website last year.
With a degree in biotechnology from CSU, Ms Hancox is completing her graduate diploma in education (GDE) at the University of Wollongong (UOW), Shoalhaven campus. From our communications with Jacqui (see below), it's obvious she is a wonderful advocate and representative of the teaching profession and we wish her well as she embarks on her teaching career. Jacqueline and her education supervisor, Dr Noelene Weatherby-Fell, received professional learning packs from Science by Doing, as well as topical resource materials from the Australian Academy of Science, to mark this significant milestone for Science by Doing.
'I would love to be one of those teachers that a future successful scientist will cite as an inspiration for continuing a career in science, but more than that, I want all my learners to leave my classroom better equipped to handle all the information that they consume, to make useful and well-informed decisions in their lives.'
Learn more about Ms Hancox, her teaching aspirations and initial feedback on our resources, by visiting and registering on the Science by Doing website.