Philanthropy
New Fundraising and Development Manager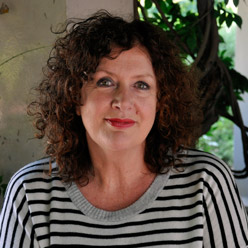 Isobel Griffin has replaced Bea Brickhill as the Academy's Fundraising and Development Manager. Isobel comes to the Academy from the Canberra Symphony Orchestra where her principal role was to develop private giving and bequest programs adding to the already strong Corporate Partnerships Program at the orchestra.
Isobel is looking forward to meeting with and hearing from the Academy's donors and business partners on how, together, the Academy can be better supported in the future.
Contact Isobel to discuss any ideas or questions you might have about how you can support the Academy.
Email: isobel.griffin@science.org.au
Phone: 02 6201 9471
Support the Australian Futures Science Fund
Walking into the beautiful Shine Dome at the Australian Academy of Science, you are immediately surrounded by its rich and proud history. But you can be assured that our eyes are firmly set on the future.
Major new challenges such as climate change, infectious diseases, dwindling energy supplies, poverty and economic development demand strong scientific leadership on a national and global scale.
Join a community of supporters committed to exploration, innovation, and education. The deeper your engagement, the more central you are to the Academy's core values and strengths—and the greater your impact on the issues you care most about.
For over 60 years, Fellows and friends have helped the Academy to maintain a degree of financial independence through their donations.
Your support through your bequest will allow us to continue to promote excellence in scientific research nationally and internationally, to develop and sustain a national scientific culture, ensure current and future generations have the opportunity to secure quality science education in our schools and provide valued independent scientific advice to assist policy development and program delivery.
We would welcome the opportunity to discuss any questions you may have about ways in which you can support our endeavors through a bequest. Please contact Isobel Griffin on 02 6201 9471 or email bequests@science.org.au.
Find out more about the Australian Futures Science Fund
Support for the Academy
The Academy thanks the following people and organisations for their generous support.
Private Giving
Academy Pillars
Donations of or valued at $500,000 +
In perpetuity
Sir Jack Becker FAA
Estate of Thomas Davis
Department of Communications, Information Technology and the Arts
FJ Fenner AC CMG MBE FAA FRS and Mrs Bobbie Fenner
Dr Margaret Middleton
Estate of Ian Ross AO FAA
Estate of Miss JG Russell
Professor John Shine AO FAA
Telstra
President's Circle
Donations of or valued at $100,000 - $499,999
Professor Sir Marc Feldman AC FAA and Lady Tania Feldman
Science Circle
eDonations of or valued at $20,000 - $99,999
Griffith University
Rio Tinto Iron Ore
Professor Brian Schmidt AC FAA and Dr Jenny Gordon
Professor TP & Ms FE Speed
Other Supporters
Australian Society for Biochemistry & Molecular Biology
Professor James Angus AO FAA
Professor David Craig AO FAA FRS FRSN
Bjarne Dahl Trust
Professor Mahananda Dasgupta FAA
Dr Elizabeth Dennis FAA FTSE
Professor Dennis Goodrum
Professor Ian Gust
Professor Pauline Ladiges AO FAA
Professor John Lovering AO FAA FTSE
Dr EN Marks
Professor Bruce McKellar AC FAA
Professor John McKenzie AM FAA
Sir Rupert Myers KBE AO FAA FTSE
Professor NA Nicola FAA
Dr G R Orme
Mr Ben Patterson
Dr Andrew Pik
Professor Hugh Possingham FAA
Professor Richard Roush
Ms Kaylene Sanders
Professor Frances Separovic FAA
Professor John Swan AO FAA FTSE
Ms Kylie Walker
Dr Colin Ward FAA FAIAS FTSE

Anonymous 1
Sponsors
2015 Academy Speakers Series
CAASTRO - ARC Centre of Excellence for All-sky Astrophysics
National Committees Science Policy Forum
Science at the Shine Dome 2015
ANSTO
The Australian National University
CSIRO
Garvin Institute of Medical Research
Geoscience Australia
Macquarie University
Monash University
PANalytical
University of Melbourne, Faculty of Science
University of Sydney, Faculty of Science
SAGE
Sponsors—Other Academy related events
CUBEnet Conference
ANU
University of Queensland
Monash University
Science Pathways 2015
Cosmos Magazine
Department of State Development (Govt. of SA)
Flinders University
Medical Research Commercialisation Fund
Monash University
RMIT University
University of NSW
University of Western Sydney
Grants
Australian Council of Learned Academics
Australian Research Council
Department of Education
Evans and Partners Pty Ltd
Science and Industry endowment Fund
For more information about giving to the Academy through a donation or bequest, please contact:
Ms Isobel Griffin MFIA
Fundraising and Development Manager
Email: isobel.griffin@science.org.au
Phone: 02 6201 9471
Support us