Academy becomes a Women in STEM Decadal Plan Champion
December 20, 2019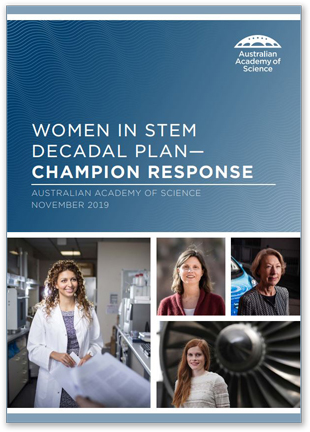 The Academy has released a formal response to the Women in STEM Decadal Plan, joining a group of 22 organisations championing change in gender equity.
The Women in STEM Decadal Plan Champions program was launched alongside the plan itself in August this year. It enables any STEM organisation to publicly align their gender equity journey with the principles and actions of the ten-year plan.
The Academy is publishing the responses of all organisations as they are received, providing a source of ideas and inspiration for everyone who would like to support girls and women in STEM.
The Academy's own response, published in November, outlines the steps being taken to recognise women in STEM and celebrate and embrace diversity and inclusion.
This includes increasing the diversity of the Fellowship; recognising diversity in awards, education programs and communication strategies; and, as demonstrated by co-authoring the decadal plan and launching the STEM Women database, through national leadership to increase opportunities for women and girls in STEM.
Becoming a champion of the decadal plan has given the Academy valuable insight into how gender equity is already supported, as well as a deeper understanding of where and how equity can be further promoted.
The Academy encourages all interested organisations to become a champion.
For more information about the decadal plan, champions of the plan, or gender equity at the Academy, please contact diversity@science.org.au