Academy supports participation of Indigenous scientists at Science meets Parliament
December 19, 2019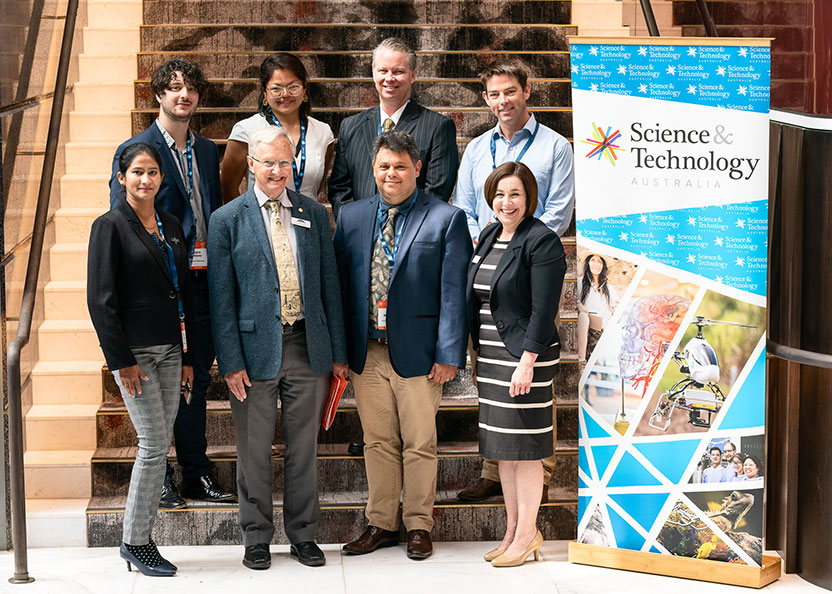 Two Indigenous scientists attended the 2019 Science meets Parliament conference held in late November with the support of the Academy and the ARC Centre of Excellence for Engineered Quantum Systems.
Science meets Parliament is an annual event led by Science & Technology Australia that brings together decision-makers and STEM professionals at Parliament House in Canberra. Delegates meet with members of parliament and senators to discuss and promote the role of STEM in politics.
The Indigenous STEM scholarship recipients were:
Professor Chris Matthews, Associate Dean Science Faculty at the University of Technology Sydney, and a member of the Aboriginal and Torres Strait Islander Mathematics Alliance (ATSIMA)
Mr Djarra Delaney, Aboriginal and Torres Strait Islander Community Engagement Coordinator at the Bureau of Meteorology and a member of the Australian Meteorological and Oceanographic Society (AMOS).
The Indigenous STEM scholarships covered registration costs, the gala dinner, travel, accommodation, transfers and meals.
The Academy's Secretary Physical Sciences Emeritus Professor Jim Williams, and Ms Louise Moes, the Academy's Diversity and Inclusion Manager, met with both scholarship winners.
Academy representatives attended an address at the National Press Club by Professor Lisa Harvey-Smith, the Australian Government's Women in STEM Ambassador. The Academy also had a presence among the 400 attendees at the gala dinner, with Future Earth Australia Director Dr Tayanah O'Donnell and Senior Policy Analyst Stuart Barrow in attendance.