Message from the President
February 28, 2020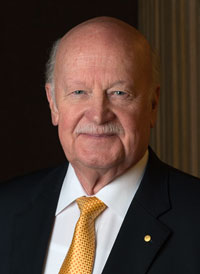 It's been a very difficult six or so months for Australians, with many parts of the country—including millions of people—experiencing ongoing drought as well as extreme heat, bushfires, air pollution, floods and storms. I extend the thoughts and kind wishes of the Fellows and staff of the Academy to all those affected, both directly and indirectly, by what we have experienced and are still experiencing.
Science and scientists will continue to support many aspects of human and environmental recovery, adaptation and mitigation, both locally and in the design of recovery programs and new policies. In addition, the challenge of the international COVID-19 health emergency is being addressed by scientists, with Australians playing a vital part.
The physical home of the Academy in Canberra has not escaped unscathed, with the heritage listed Shine Dome and historic Ian Potter House both receiving significant damage from a hailstorm that also badly affected CSIRO's research facilities and the Australian National University.
The Academy was vocal and active as the bushfire crisis worsened. In January we published a statement on the bushfires that received nearly a quarter of a million visits on our website and which was shared nationally and internationally in media and social media. We continue to provide scientific advice directly to the Prime Minister, Minister and the National Bushfire Recovery Agency. We are currently using our collective expertise to develop a range of information and advice which will assist organisations and individuals to base their decisions on scientific evidence, and we are bring together experts from around Australia to discuss in detail changing fire behaviour and fuel management. More is planned for this year, and we will keep you informed as this work progresses.
I am, as always, impressed by and grateful for the depth of knowledge and talent within the Fellowship, and the willingness of Fellows to share their expertise.
Fortunately, and importantly, the Academy also has much to celebrate. Congratulations to the five Fellows who were recognised in the Australia Day honours, and to the recently announced researchers who are to receive Academy awards and research funding this year. Nominations and applications are now open for our 2021 awards, including two new career awards. Science needs the best and most creative minds, and we are seeking award applicants from all career stages, backgrounds and genders. I strongly encourage women to nominate for all awards, and in particular the career and mid-career honorific awards.
Our support for women in STEM continues, with our national gender equity conference and the SAGE awards dinner giving many the chance to learn from each other and celebrate progress.
Information on many of these things and more is in this month's newsletter. Thank you for taking time to read it.
Professor John Shine