Call for expressions of interest for new national QueersInScience network
July 29, 2019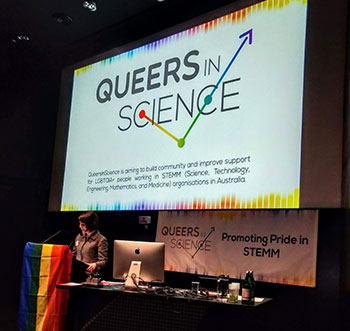 The Australian Academy of Science and QueersInScience are inviting expressions of interest for a new national QueersInScience network.
Individuals who are passionate about advocating for LGBTQIA+ people within science, technology, engineering, mathematics and medicine (STEMM) organisations can apply to become state champions as part of a steering committee that will shape the formation, direction and vision of the network.
The national QueersInScience network is a new initiative supported by the Theo Murphy Initiative (Australia) and will build on the achievements of QueersInScience, a Melbourne-based association that champions inclusion of LGBTQIA+ individuals working in STEMM organisations in Victoria.
The call for applications was officially announced by the Academy's Chief Executive Anna-Maria Arabia at the first ever LGBT STEMM Day Symposium in Melbourne on 5 July. Ms Arabia highlighted that this initiative "will be an invaluable opportunity to take steps to improve the visibility of emerging and established LGBTQ+ individuals in STEMM".
"By establishing a nationwide network, we can create a sense of connection and belonging, but also, we can start to better understand and address the systemic barriers affecting participation by LGBTQ+ scientists," she said, "Together the state champions will form a steering committee, which will work to determine the direction and goals for a national QueersInScience network."
The initiative will be shaped and driven by the LGBTQ+ community, with support from the Academy.
Expressions of interest from various parts of the community are strongly encouraged, including from those who identify as Aboriginal or Torres Strait Islander, work outside the university sector, or reside and/or work in a non-metropolitan area.
To get involved as a state champion submit an expression of interest by Sunday 18 August 2019.