Academy hosts celebration of Australia–France research collaboration
March 25, 2019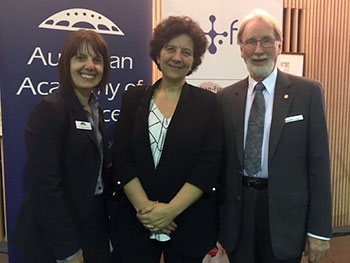 On 27 February 2019, the Academy hosted a reception to celebrate research collaborations between Australia and France. The event was organised in collaboration with the French Embassy in Canberra to coincide with a visit by Mrs Frederique Vidal, French Minister for Higher Education, Research and Innovation.
A delegation of 50 senior scientists from French research institutions, plus another 100 guests, attended the event at the Shine Dome.
Academy Vice President, Dr TJ Higgins hosted the event and opened applications for travel to France funded by the Academy's Bede Morris Fund. This fund was established in honour of Professor Bede Morris FAA (1927–1988), one of Australia's most distinguished medical scientists. The fund has been supporting young Australian researchers to travel to and conduct research in France since 1990.
More information on the 2019 France and Europe EMCR Mobility Grants