Academy's Fenner collection listed on UNESCO register
March 25, 2019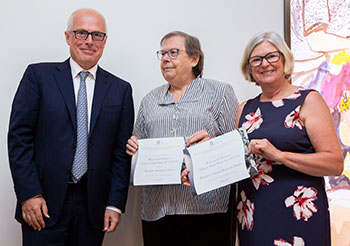 The Frank Fenner manuscript collection, held in the Australian Academy of Science archives, was recently added to the UNESCO Australian Memory of the World Register.
Two smaller Fenner collections, at the Australian National University and the University Adelaide, were jointly added to the register alongside the Academy's collection to complete the listing.
Professor Frank Fenner AC CMG MBE FAA FRS is widely known for his significant contribution to control of the rabbit plague in Australia, and to the eradication of smallpox.
The collection documents Professor Fenner's enormous contribution to scientific research and science communication over more than eight decades. It is also an unexpectedly rich personal archive documenting Fenner's family background and education, his broad ranging intellectual interests, the history and development of the Australian National University, and his contributions to the broader community, thus providing a valuable source for social history.
The Australian Memory of the World program honours documentary heritage of significance for Australia. Its register contains more than 60 inscriptions of important documentary heritage, from Captain James Cook's Endeavour Journal to the Mabo Case manuscripts.
There are few science-related listings on the register, so this is an important inscription for the Academy and for preserving the history of science in Australia.
Academy Fellows Professor Ruth Hall and Professor Tony Basten attended an inscription ceremony at the State Library of NSW on behalf of the Academy, and were presented with a certificate of inscription.