Future Earth Australia leads co-design of urban sustainability national strategy
March 25, 2019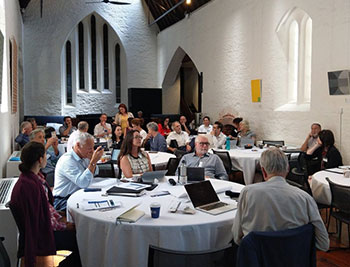 Future Earth Australia is leading the co-design and co-production of a national strategy for urban systems transformations—sustainable cities and regions.
A program of the Australian Academy of Science, Future Earth Australia is a national peak initiative that enables Australian scientists, governments, industry and NGOs to collaborate with each other and with international networks and programs across Australia.
Over November 2018 and February 2019, the Future Earth Australia team ran consultation workshops to gather knowledge that can support Australia's transformation to sustainable urban systems. The workshops attracted 294 participants, spanning senior levels of government, industry, research and NGO sectors.
Workshops were held in Adelaide, Alice Springs, Canberra, Darwin (including an Indigenous yarning circle), Melbourne, Perth, South East Queensland, Sydney City and Western Sydney, with Tasmania to come. Future Earth Australia is pleased to have had very engaging and productive collaborations as a result of the workshops.
Future Earth Australia is now co-hosting the global Future Earth Urban Knowledge Action Network together with Tokyo University. This is a global network of researchers and other innovators in policy, business, civil society and more, working to solve the most pressing challenges facing cities worldwide.