International news
November 28, 2019
Fellow represents Academy at Taiwan celebration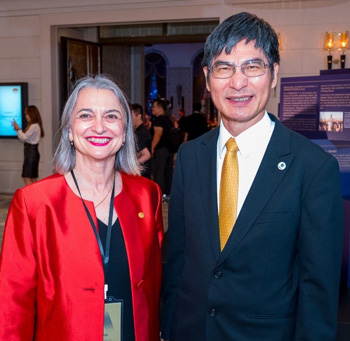 Academy Fellow Professor Frances Separovic recently attended the 2019 Global Science and Technology Leaders Forum in Taipei to celebrate the 60th anniversary of the establishment of Taiwan's Ministry of Science and Technology. The event was attended by more than 300 academics, business representatives and officials from 18 countries and territories including Australia, France, Germany, India, Japan, the UK and the USA.
Discussions focused on areas such as artificial intelligence, biotechnology, and information and communication technology, as well as strategies for furthering cooperation on global research projects.
Professor Separovic spoke at the forum, giving an Australian perspective of the role of academies of science in promoting global research cooperation and networking. She also participated in a roundtable discussion on how to strengthen science, technology and innovation cooperation between nations and encourage future academic and industry talents in science and technology.
As part of a program of site visits, Professor Separovic toured the NTU Cancer Center, the Taiwan Semiconductor Manufacturing Company Ltd (TSMC) and the National Applied Research Laboratories (NARLabs-Space).
Australia–China symposium on precision medicine a success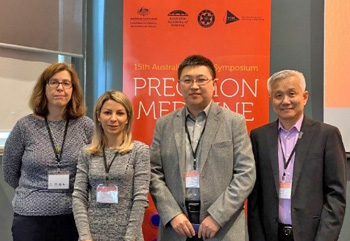 The Academy, in collaboration with the Australian Academy of Technology and Engineering (ATSE) and the Chinese Academy of Sciences, held the 15th symposium between Australia and China at Werribee in October on the topic of precision medicine.
Academy Fellow Professor Bob Williamson and Dr Anna Lavelle and Professor John Skerritt from ATSE were the Australian co-convenors of the symposium. Twenty-five Australian and Chinese experts in areas related to precision medicine delivered presentations on current research and challenges in this important field under seven sub-themes.
Seven early- and mid-career researchers (EMCRs) from Australia and China were supported to attend the event to observe the proceedings and present posters on their own research. Dr Shafagh Waters from UNSW and Professor Daming Gao from the Shanghai Institutes for Biological Sciences won best poster presentations.
Professor Jiarui Wu from the Shanghai Institutes for Biological Sciences of the Chinese Academy of Sciences led the Chinese delegation. Academy President Professor John Shine and ATSE President Professor Hugh Bradlow opened the symposium and welcomed the participants.
Chinese delegates visited facilities at Murdoch Children's Research Institute, the Walter and Eliza Hall Institute of Medical Research and Dementia Australia to further understand the emerging developments in this field from an Australian perspective. See the full symposium program.
The annual symposia series promotes scientific engagement between eminent researchers from the two countries. This event has been funded by the Australian Government Department of Industry, Innovation and Science under the Australia–China Science and Research Fund.