Maths Champions recognised for important contributions to education program
September 26, 2018

The Academy recently held a day of celebration for its reSolve: Maths by Inquiry program. Twenty-nine reSolve Champions—teachers and leaders across the country—gathered at the Shine Dome in Canberra to showcase their work and to receive recognition for their achievements.
Over the past 12 months each Champion has provided feedback on resources for teachers, presented workshops to their colleagues and participated in three days of professional learning in their own time. The program now has over 300 committed Champions from schools across Australia who will take the reSolve spirit of inquiry into the future.
Re-igniting engagement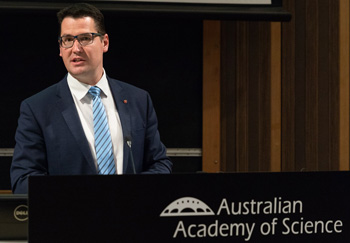 Ten Champions at the event gave inspiring and challenging talks about their journeys on topics including growing a community via problem solving and reasoning, re-igniting engagement with reSolve, using inquiry pedagogy as a vehicle for student and staff growth, and using the challenge of inquiry in social and emotional wellbeing programs.
Other presentations covered wonder in the maths classroom, linking reSolve activities and curriculum requirements, tracking student growth with reSolve resources, using inquiry as a vehicle for whole school change, working with other teachers to develop classroom resources, and using reSolve resources to provoke pre-service teachers about inquiry.
The day concluded with a formal presentation of certificates by Senator the Hon Zed Seselja representing the then Minister for Education and Training, Senator the Hon Simon Birmingham; former Chief Scientist, and Australian Academy of Science Fellow and Chair of the Academy Education Committee, Professor Ian Chubb, and President of the Australian Association of Mathematics Teachers, Jurek Paradowski.
What teachers are saying
'The reSolve materials are an absolute revelation! Mathematics has always been a stressful subject for me in my own schooling and now as a teacher. I have relied on teaching processes to get by rather than focusing on the conceptual understandings that absolutely need to be in place to feel safe, explore and have fun with Maths. reSolve has levelled the playing field for my students and I. They're teaching me as much as I'm teaching them. Engagement levels are the highest I've ever experienced in math sessions and best of all the learning is transferrable and relevant. Knowing what I know now, I wish I could have my past students back and re-teach them using the reSolve method and materials. This has been life changing for me.'
'In the day to day struggle to cover all of the curriculum as well as one can, it is easy to forget the learning of basic skills needs to be fun and captivating for all students. And some need all the encouragement they can … whilst not realising they are learning … this is where reSolve has helped, [reSolve Champion] Steph coming to the classroom and seeing all the students responding to her and the 'games' refuelled my passion to be a better numeracy teacher. Also there is never enough teachers time already in the primary schools to research, relate to the curriculum, create and make resources so this is a huge help.'