Editor's welcome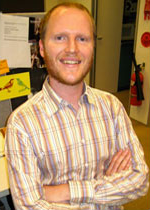 Hamish Clarke
EMCR Pathways Editor & EMCR Forum Executive Member
Australian Academy of Science
@EMCRForum
It gives me unutterable delight to present Issue 9 of Pathways.
If you haven't done so yet, read our draft discussion paper Starting the conversation between academia and industry and then tell us what you think. It aims to demystify academia, the private sector and government research for scientists working outside each sector. We're also collecting case studies of people already successfully bridging these gaps, so please get in touch if you have a story to share.
On a related topic, Forum Executive member Roslyn Hickson reports back from a Research Translation and Innovation event with lots of useful insights.
We're all feeling a mixture of warm afterglow and supercharged motivation after the Science Pathways 2016 conference on leadership. You can catch up on some of the highlights in our View From Twitter, where we ask "If an EMCR tweets in the forest and no one retweets it, is it really #socialmedia?" Or you can discover one delegate's experience and reflections on the event in Leading the way to…job security? by Meisha Holloway-Phillips.
We also take a deep dive into ANSTO with a special double header of our regular On the job with… feature, hearing from radiochemist Lidia Matesic and research and instrument scientist Armand Atanasic.
We've got another great profile to share in our Inspiring EMCRs feature, this time of Helen Macpherson at the Institute of Physical Activity and Nutrition at Deakin University.
As usual there is a lot going on in the world of early- and mid-career researchers. Find out what the Forum has been up to!
Grateful thanks to Sandra Gardam for her usual stellar help in putting this together.
After you've finished enjoying EMCR Pathways, why not put fingertip to keyboard (or screen) and tell us what's going on? Whether you want to complain, celebrate or get involved, we want to hear from you.