2023 Symposium closing remarks: Professor Chennupati Jagadish
November 14, 2023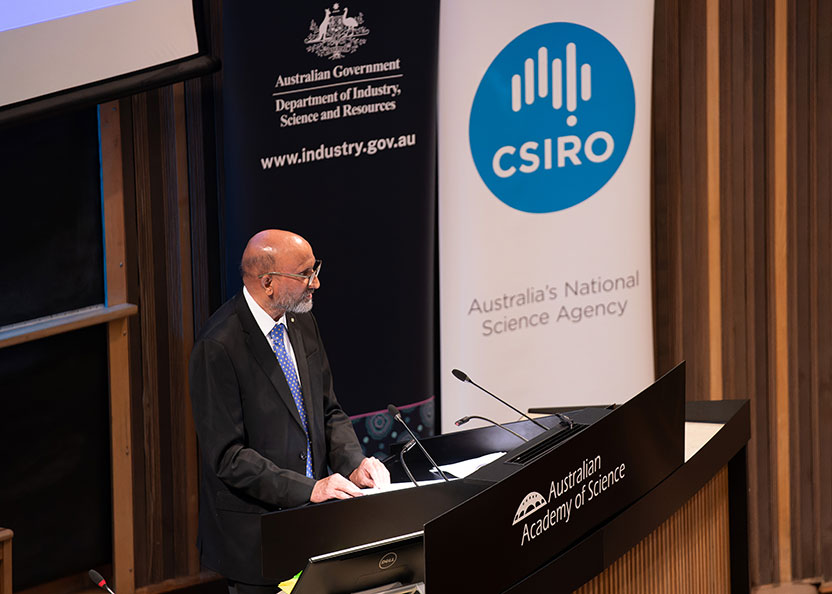 Thank you, Professors Steven Chown and Frances Separovic for your summary of the Academy's 2023 Symposium.
I, too, would like to reflect briefly on today's event.
The national dialogue we have had today has been necessary.
We have been deliberate in bringing together the national security and research sectors so they could hear from each other, and engage and move forward constructively with a deeper understanding of each other's challenges and perspectives.
The more we can do to forge a culture of dialogue between these sectors, the better.
The balance between scientific collaboration and national security is a delicate balance, and as Assistant Minister for Foreign Affairs the Hon Tim Watts MP said earlier:
"It's not an all or nothing situation—and there's no one answer. Most issues will fall somewhere in that in between space, and we should always be looking very closely at what we need to protect, and how we can collaborate where we can—for our shared interests, as well as for our own national interest."
I'm pleased there was an acknowledgement of the need for Defence to reach deeper into universities to communicate with researchers at the coalface and who stand to be most impacted by the dynamic threat environment and measures to manage it.
Reaching a shared understanding of who we can collaborate with, on what terms, and how much risk we are comfortable accepting is a shared responsibility.
A strong dialogue between the national security and research sectors will also help determine the carve-outs that will apply to security measures.
An evidence-informed discussion is also important.
The Academy looks forward to working with the Department of Defence to convene the research sector and help inform decision-making.
I am also pleased to hear resounding support for strengthening multilateral scientific engagement and a desire to find better ways to share science talent and knowledge.
Many speakers emphasised the importance of international scientific collaboration, not just to solve global problems, but to bring back global knowledge to solve uniquely Australian problems.
I was encouraged to hear Deputy Prime Minister the Hon Richard Marles MP say that Australia needs to change our cultural relationship with science—to see it front and centre and crucial to responding to issues our country faces, such as the lack of economic diversification in the Australian economy.
I could not agree more.
Something that was largely unspoken today was the role that industry research and development plays in this context.
The most recent BERD figures show that industry is responsible for over half (53%) of Australia's R&D investment—much of this is not coming from homegrown Aussie startups where we can provide guidance on selecting members of the board.
It's from large multinational companies, like Rio Tinto, BHP, Atlassian and Canva, who develop ideas in Australia, and take their know-how wherever they need.
As I highlighted this morning, the implications of AUKUS and the threat environment have direct impacts on my research group at ANU.
I see myself at the forefront of the significant changes that will likely be required to ensure our science system is appropriately responsive to the evolving geopolitical environment.
I am confident this symposium has improved our mutual understanding of the research and national security challenges we face.
I am of the view that the Defence Trade Controls Amendment Bill 2023 will benefit from amendments to make it implementable.
The Academy will work with decision-makers across the government to seek to achieve a nuanced approach that supports our respective and joint objectives consistent with the principles of evidence-based co-design and proportionality.
It is my view that the Learned Academies need to play a role in helping the government communicate and build an understanding of the requirements and responsibilities that will increasingly be placed upon scientists, and importantly, where they will not.
I would like to extend my heartfelt gratitude to all our speakers and panellists, some who have travelled a long way to be here.
To our event partners, thank you:
ANU
CSIRO
The Department of Industry, Science and Resources
The Department of Defence
The University of Adelaide
Monash University
ANSTO.
This event would not have been possible without your generous support.
To the convenors of today's event, Professor Steven Chown and Professor Frances Separovic, thank you for your knowledge, time and dedication in preparing for the symposium. And for assisting us throughout today to facilitate these important conversations.
Thank you also to Academy Chief Executive Anna-Maria Arabia, whose leadership and vision helped shape our symposium.
I would also like to thank the Academy Policy and Communications teams for their tireless work behind the scenes to prepare and deliver this event.
With extra special thanks to Lisa Crocker, our Events Manager.
And finally, thank you all for attending and engaging.
One final announcement: we are excited to announce the Academy's national symposium will be moving to Brisbane next year!
As part of the World Science Festival Brisbane on Friday 22 March 2024, the symposium is titled "Food Futures: Nourishing a Nation".
The symposium will explore what science can tell us about what Australians will be eating in 10 years' time, the forces that will impact food systems, and the innovations that will shape our diets.
More information will be available soon.
Partnership opportunities are also now available.
We hope you will join us in Brisbane in March.
Thank you all again, safe travels home, and good afternoon!