Academy Fellow recognised for gender equality leadership
August 02, 2019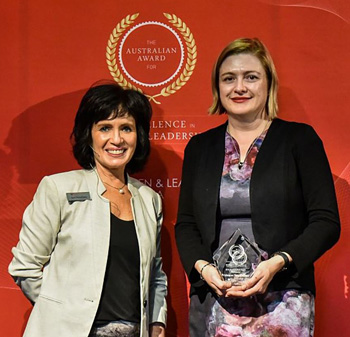 For her contribution to the advancement of gender equality across Australia, Academy Fellow Professor Tanya Monro is the South Australian recipient of the 2019 Australian Award for Excellence in Women's Leadership.
The Awards for Excellence in Women's Leadership recognise the contribution of women at a National and State/Territory level. More specifically the awards 'recognise individual women that have, through their actions, improved the likelihood of other women within their field of endeavour having greater access to leadership equality.'
Professor Monro said she was honoured to receive the award.
"Organisations that can create cultures where talent of a diverse workforce can contribute and where people thrive, will ultimately deliver the best outcomes," Professor Monro said.
In January Professor Monro became the first woman to lead Australia's Defence Science and Technology, replacing newly elected Academy Fellow Professor Alex Zelinsky as Chief Defence Scientist. When she was elected in 2012 Professor Monro became one of the youngest living Fellows of the Academy.
Throughout her career the physicist has also been an advocate for diversity and inclusion and a champion of the Academy's Science in Gender Equity (SAGE) initiative.
See the full list of 2019 Australian Award for Excellence in Women's Leadership recepients.