Academy Fellow wins Eureka Prize for mentoring young researchers
September 07, 2017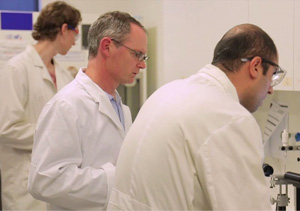 Australian Academy of Science Fellow Professor Justin Gooding has been awarded the 2017 University of Technology Sydney Eureka Prize for Outstanding Mentor of Young Researchers.
"Through a program of individualised mentorship, Professor Justin Gooding has trained and developed an all-new breed of research leader in bionanotechnology and nanomedicine," reads the award citation.
"He has focused on developing innovative, entrepreneurial and passionate researchers who become talented mentors in their own right."
UNSW Medicine colleague Associate Professor Till Boecking said Professor Gooding's key strength as a mentor is to create a buzz in the lab where people think big.
"He's able to tailor his approach in mentorship to bring out the best in all of us."
Professor Gooding was elected to the Academy in 2016.
Two other Academy Fellows were also selected as finalists at the Australian Museum Eureka Prizes awards: Professor Gordon Wallace and Professor Tom Davis. Professor Gooding was also a finalist in the ANSTO Eureka Prize for Innovative Use of Technology.
2017 Pawsey Medal winner, Associate Professor Igor Aharonovich, was a finalist in the Macquarie University Eureka Prize for Outstanding Early Career Researcher.