Academy Fellow wins Prime Minister's Prize for Science
October 18, 2017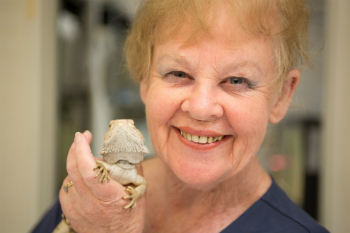 Academy Fellow Professor Jenny Graves AO has been awarded the prestigious 2017 Prime Minister's Prize for Science for her pioneering investigations of the genetics of sex.
Professor Graves has transformed our understanding of how humans and all vertebrate animals evolved and function. She has kick-started genomic and epigenetic research in Australia, and predicted the disappearance of the male chromosome.
She has used marsupials and monotremes, birds and lizards to understand the complexity of the human genome and to reveal new human genes. She has transformed our understanding of how sex chromosomes work and how they evolved, predicting the decline of the Y chromosome.
Her research has contributed to a deeper understanding of the immune system, prion diseases and blood proteins, and helped understanding of the tumour driving the Tasmanian devil to extinction.
The wider scientific impacts of Professor Graves's include deepening the understanding of animal chromosome and genome evolution and its relationship with speciation, finding the chromosome changes involved in the fatal transmissible facial tumour of the Tasmanian devil, and discovering 14 novel human genes, including one which is critical for brain development.
She has also pioneered the fields of comparative genomics and epigenetics globally, been the driving force behind sequencing the first marsupial and monotreme genomes, published more than 440 scholarly works which have been cited more than 17,000 times, and won many international awards.
Many of the scientists she has trained now occupy senior positions in science, medicine, industry and academia.
Knowing that engagement with science starts early, Professor Graves used her position as Secretary of Education at the Academy to advance inquiry-based school science programs in Australia. As the Academy's Foreign Secretary and a member of international boards, she advocated progressive approaches in Asia.
She has been a role model for girls and women in science in Australia. She was first to introduce measures into the Academy to remove gender bias from election to Fellowship. This was the forerunner of several highly effective equity programs spearheaded by the Academy. Her Academy positions also allowed her to agitate for gender equity internationally.
Academy award winners recognised
Two recipients of Academy awards were also recognised in the Prime Minister's Prizes for Science.
Professor Jian Yang, winner of the Academy's 2015 Ruth Stephens Gani Medal, won the Frank Fenner Prize for Life Scientist of the Year for creating ways to understand inherited traits and the human genome, while Distinguished Professor Dayong Jin, winner of the Academy's 2017 John Booker Medal, won the Malcolm McIntosh Prize for Physical Scientist of the Year for creating new technologies to image the processes of life.
Professor Jin and Professor Yang are both former participants in the long-running Australia–China symposia series, and Professor Jin was the Australian nominee for the 2017 ASPIRE Prize.
More about the recipients of the 2017 Prime Minister's Prizes for Science